SMART ERP HANDLES MANUFACTURING AND REGULATORY COMPLIANCE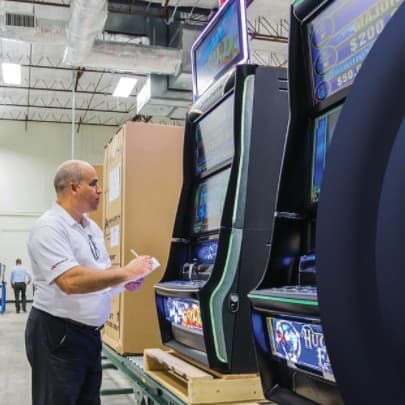 Australian-founded Ainsworth Game Technology has expanded globally since being established in 1995, today representing the fifth-largest gaming manufacturer in the USA. The company boasts a new state-of-the-art US$40 million facility in Las Vegas, which produces thousands of gaming machines per year.
Due to the nature of the gaming machine industry, there are heavy regulatory requirements with which Ainsworth must comply across locations, including more than 200 jurisdictions. The company has invested in an ERP system that allows it to streamline its compliance to strict regulation, as well as manage its global operation from design, development, assembly and testing through to sales, service and support.
With an ERP solution from Pronto Software already in place in Australia, Ainsworth's US business has also invested in the vendor's flagship technology, Pronto Xi.
According to Ainswoth COO Ryan Comstock: "We were at the stage where we wanted to start producing machines here in
the US, so we needed a more holistic software solution that included inventory management and manufacturing. Factors such as user-friendliness, scalability and reliability also topped the key selection criteria."
Comstock says Pronto Xi touches virtually every part of Ainsworth's operations, "From manufacturing to distribution, financials to service, our entire business relies upon Pronto Xi. It's much easier to manage processes across departments," he says.
Since deploying the Pronto Xi solution, the company has unlocked business intelligence (BI) and reporting capabilities that have enhanced the management teams' decision making. By understanding the performance of each machine, under-performing machines can be upgraded. The solution's BI capability also provides clarity and insight in terms of evaluating the popularity of certain games in specific geo-locations.
The system's manufacturing functionality allows Ainsworth to lower inventory levels while maintaining machine supply to customers, allowing the company to make accurate ordering decisions at the right time, rather than carrying excess inventory to cover peak business needs.
The business' Australian operations are fully cloud hosted for ease of maintenance, uptime and the seamless reliability that comes from operating in the cloud. In contrast, the US operation has deployed Pronto Xi on-premise. The hybrid model syncs up across the regions each night to automate operations and reporting, and drive efficiencies.
The build materials, purchasing, as well as accounts payable and receivable are all fully connected across the company's global operations from a single, end-to-end system. As a result, the two teams stay aligned from a product and regulatory requirement perspective.
"We experienced some complexities because many of our products have specific bills of materials that require regulatory approvals. We have to have all hardware and software specifically evaluated and approved for each jurisdiction," adds Comstock.
In order to maintain regulatory compliance, Ainsworth has a dedicated technical compliance group that maintains data in Pronto Xi to prevent orders being processed for unapproved products in any particular jurisdiction.
"Our sales people have all of the approved products on their iPads, and we keep that in sync with Pronto Xi. This synchronisation from the in-house app to Pronto Xi means the sales team can only order compliant product for the particular jurisdiction they are working in. We have seen a significant increase in productivity and compliance as a result, which has been fantastic," Comstock concludes.
Pronto Software
03 9887 7770
www.pronto.net