SMALLER DIN-RAIL SUPPLIES HANDLE SHORT-TERM PEAKS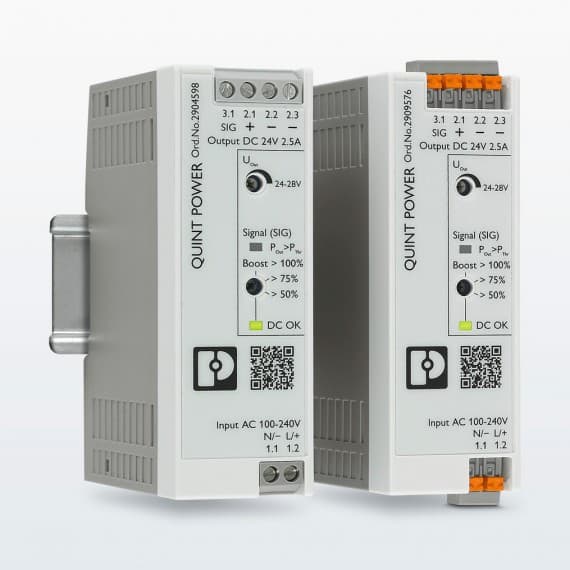 Available now from RS Components, the fourth generation of Phoenix Contact Quint Power DIN-rail power supplies covers power ratings up to 100W, with 24V output voltage and 1.3, 2.5 and 3.8A nominal current ratings. They are the first members of the Quint Power family below 100W to include dynamic boost technology, and so they can supply up to 200% of nominal maximum current for up to 5s to start loads with high short-term initial demands.
In addition, the 1.3 and 2.5A models also support static boost that allows 25% over-current at any time for 5s, to handle short-term peaks.
Further value-added features include preventive function monitoring, which warns of critical operating states before errors occur, and configurable signalling of DC OK or selectable power thresholds that let users adapt output-parameter monitoring to suit the application.
The supplies accept a wide range of inputs of 85-264V AC, or 88-350V DC, and have an ambient operating-temperature range of -25 to +70°C, allowing use in a wide variety of environments.
Their slim and flat 90mm-high design saves space inside enclosures, while efficiency of up to 93.7% prevents excessive heat and helps cut energy consumption.
The Phoenix Contact Quint Power DIN-rail power supplies are shipping now from RS in the Asia Pacific region.
RS Components
1300 656636
au.rs-online.com