Published 24-11-2020
| Article appears in February 2021 Issue
Small & speedy Nozzle Solution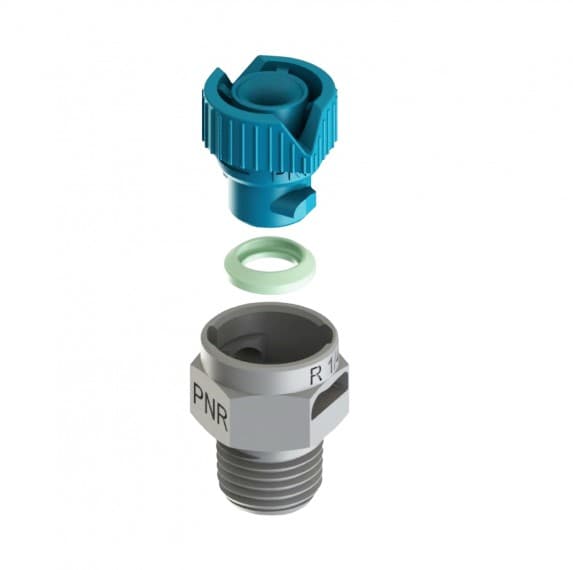 If you use spray bars as part of your operations, you'll understand how time consuming and inconvenient it can be to unclog, clean and maintain the spray nozzles.
This is about to change with the introduction of a new range of Mini Quick-Fit Nozzles, from Italian nozzle manufacturer PNR.
The design is inspired. The spray nipple itself is permanently fixed to the spray bar.
Then it's just a simple push and twist to position or remove the nozzle. As a result, cleaning and maintenance are a breeze and highly time efficient.
The new range of Mini Quick-Fit Spray Nozzles are made from glass fibre-reinforced polypropylene.
That means they're less prone to chemical attack and maintain maximum stability at high temperatures. Yet they're a highly economical alternative to stainless steel spray bar nozzles.
To avoid risk of leakage, the Mini Quick-Fit Nozzles include a gasket (or seal) that fits between the nipple and the nozzle.
The nipples are hexagonal in shape for ease of alignment with a 10° offset for even water distribution.
The Mini Quick-Fit Spray Nozzles come in 2 options – full cone or flat fan – and offer a variety of spray angles. In addition, they can handle a range of water pressures from 1 – 5 bar.
They are ideal for applications such as dust suppression, powder coating or any spray bar installation requiring tool-free, quick coupling spray nozzles.
Designed and made in Europe, Tecpro Australia is the exclusive distributor of the PNR Mini Quick-Fit Spray Nozzles in the Australasian region.
Tecpro - www.tecpro.com.au.