SMALL, RELIABLE, ANTI-VIBRATION CAPACITORS FOR TRANSPORTATION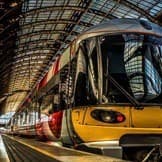 element14 stocks a unique range of anti-vibration aluminium electrolytic capacitors from Panasonic, a worldwide leader in capacitor products. They are ideal for use in DC/DC and AC/DC convertors in a wide variety of transportation and harsh-environment applications due to their small size, reliability and strong, dependable soldering connectability.
The growing demand for energy efficiency and eco-friendly cars, along with the need to comply with environmental regulations, has led to greater numbers of ECUs being employed in car design. Alongside this, demand for high-precision control, a higher degree of freedom in component layout and a reduction in the number of cables have also led to the adoption of an integrated configuration of in-vehicle mechanical and electrical components, with ECUs positioned in the engine rather than the engineer compartment. This trend has created the need for ECUs in a smaller size, combined with better resistance to vibration.
Panasonic has developed its anti-vibration products in response to this growing demand. The capacitors are AEC-Q200 compliant for automotive applications and are smaller than traditional capacitors from just 6.3mm in diameter, while withstanding vibration acceleration of 30g. Adoption of Panasonic's anti-vibration capacitors removes the need for anti-vibration reinforcement as part of the board mounting process, allowing customers to streamline their production processes. Also, auxiliary terminals on the 6.3mm capacitor are positioned on the sides of the capacitor to ease visual confirmation of auxiliary terminal soldering, ensure stable soldering properties and enhance the ECUs overall vibration resistance.
"As the development distributor, element14 has developed strong relationships with a broad range of manufacturers to provide access to the latest technologies to ease the design process," element14 Senior Product Manager Dave Jones says. "Panasonic's range of anti-vibration capacitors handle vibration so the physical hardware or enclosure doesn't have to be altered or manipulated, providing a simpler solution for combating vibration in electronic devices."
element14
1300 361 005
au.element14.com