Slump in construction continues in April
31-08-2010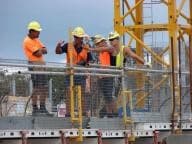 Poor demand and subdued workloads – particularly in the apartment building sub-sector – pushed the national construction sector further into the red in April.
The latest Australian Industry Group Australian Performance of Construction Index (Australian PCI) in conjunction with the Housing Industry Association was 1.3 points weaker at 34.9 in April (readings below 50 indicate a contraction in activity with the distance from 50 indicative of the strength of the decrease).
Continuing the recent trend, apartment building was the weakest of the four sub-sectors with an index reading of 22.9. 
The index of house building (33.3) and commercial construction (35.2) activity also remained well below the expansion-contraction threshold of 50, reflecting the persistence of weak demand conditions in both sectors. Despite declining in the month, engineering construction continued to be the sector showing the greatest resilience due to the strength of resource related projects.
Australian Industry Group Director Public Policy, Peter Burn, said: "The fall in construction activity in April is further evidence of the widespread nature of the current slowdown in the broader economy. The ongoing weakness in the residential and commercial construction sub-sectors was exacerbated by the slowing in engineering construction activity that has now been in train since the start of the year."
Housing Industry Association Economist, Geordan Murray, said federal and state government support and policy reform is a vital plank in restoring confidence and activity in the residential construction industry.
"Interest rate relief can't do all the heavy lifting," Mr Murray said.