Slash running costs with Mitsubishi lasers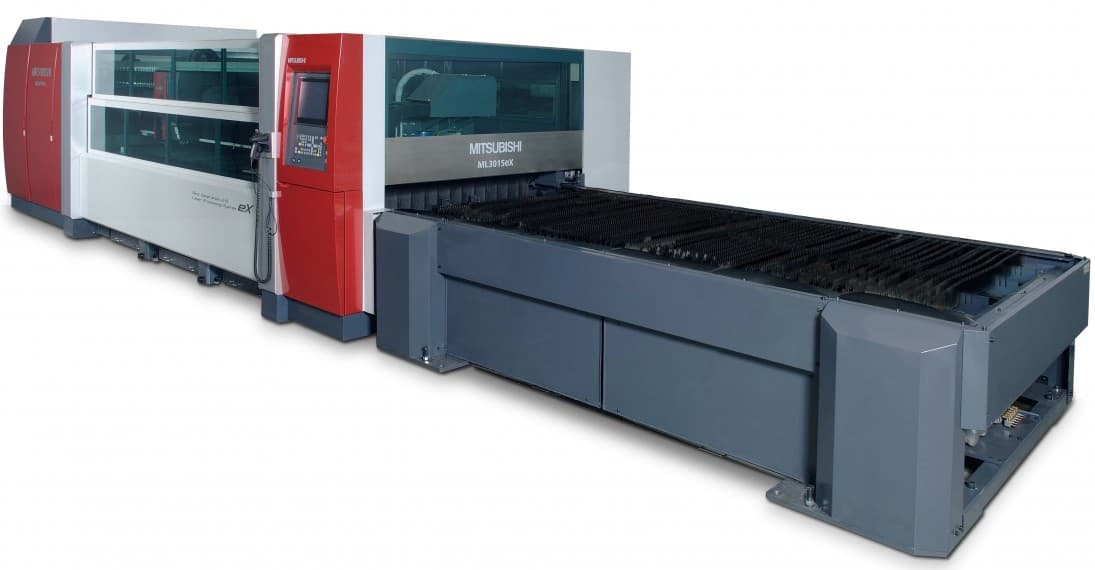 Applied Machinery, one of the oldest and most respected dealers of new and used machinery in Australia, has been appointed the Australian distributor for Mitsubishi Laser and their new range of cross-flow laser cutters.
Mitsubishi Electric has been a leading developer and supplier of laser cutting machines to the global sheet metal processing market for over 30 years.
The company enjoys a global market share in excess of 15 percent, with over 10,000 laser processing systems sold worldwide.
Mitsubishi's cross-flow resonator design is state-of-the-art technology in laser cutting machines.
The new range offers outstanding features and benefits, including substantial savings on running and maintenance costs.
The cross-flow low velocity design leads to a decrease in the energy required to excite the laser gas. This means less gas consumption and lower power usage. And no turbine is required.
Also, the larger cavity size results in more gas being available at any one time, therefore less gas is required to be blown throughout the system by the fans.
Power consumption during standby is drastically reduced along with reduction of electricity consumption provided by just-on-time discharge.
As a result of this technology, an extremely efficient 3L/h laser gas usage is achievable, along with a 90 percent energy saving in standby mode.
Operators can also expect a 30 percent reduction in CO2 emissions compared to a traditional laser with axial flow resonator, thereby assisting companies endeavouring to reduce their overall carbon footprint.
And with no glassware and a greatly reduced number of o-rings, maintenance is further reduced leading to more up-time and greater productivity.
Other benefits of the cross-flow technology include an increased stability of beam mode due to the slow gas flow.
The machines also provide unprecedented accuracy with thin, medium and thick workpieces in a wide range of materials.
This is particularly noticeable, for example, in the roundness of corners, eliminating the need for any post-processing.
Mitsubishi Electric's Brilliantcut technology delivers surface finishes and quality previously only associated with grinding processes.
"Whilst these remarkable machines can cut practically all metals, we must also remember that they have a wide range of applications in other areas including plastics and composite material processing," said Applied Machinery Sales Director, John Goodrich.
An extensive range of eX series machines is available from 2.7kW through to 6.0kW laser power, with sheet capacities ranging from 2400mm x 1200mm, through to 6000mm x 3000mm.
Applied Machinery will also offer a premium2.5kW Mitsubishi Fiber Laser – the ML-3015 NX-F.
Applied Machinery Australia Pty Ltd
03 9706 8066
www.appliedmachinery.com.au