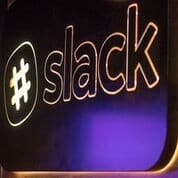 The team-oriented messaging app has just opened an Australian-based branch, serving as the brand's Asia Pacific Headquarters and creating new local jobs.
The local branch's launch was attended by co-founders Steward Butterfield and Cal Henderson, and celebrated the opening of Slack's newly opened office space in the Melbourne-based heritage Carlton Brewery site.
Slack is used by tens of thousands of Australians, from local startups to national corporations like Telstra, demonstrating strong scalability.
By streamlining team communication and making file sharing, chat, and other tools together in a single versatile platform, Slack has simplified the collaboration process worldwide.
"We live in a golden age of software. Work tools are finally benefitting from the type of exciting innovation we've seen in consumer apps for years," said Steward Butterfield.
"We're making a big investment here in Australia to grow our own Slack team, but more importantly, to help teams of all sizes be happier and more productive."
The statistics are impressive: Slack has drawn in 2.3 million active users, making it the fastest growing web-based application ever. 
A majority of users report that slack improves team culture and transparency, and cuts down on the amount of busywork and meetings needed to increase productivity.
As a still-growing company, hopes are high that Slack will continue to grow and improve, contributing to the Australian innovation industry.