Published 24-10-2019
| Article appears in November 2019 Issue
SIX BENEFITS OF RENTING CLEANING EQUIPMENT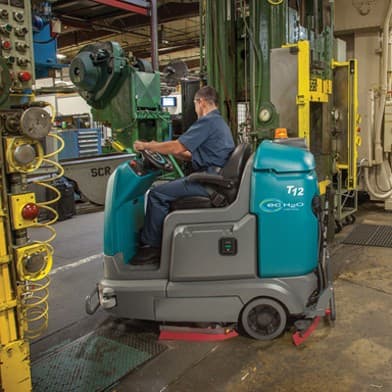 If you're planning to add some cleaning machines to your toolkit, you'll first need to decide whether you want to buy, finance, or rent your equipment.
So, what are the benefits of cleaning equipment hire?
1 Access better tech now
When you rent, you don't have to wait until you can afford to buy new equipment outright. It means you can add a better piece of equipment to your inventory now and start enjoying the benefits right away: benefits like saving time, saving money, operating more efficiently, and getting a better, cleaner result.
2 Flexible upgrades
When you rent instead of buying your machines, it can be easier to switch to different equipment if your needs change. There's no need to wait until the end of your machine's life or try to find a second-hand buyer.
Simply trade-in your existing rental machine for a newer model or add an additional machine to handle a new or bigger cleaning challenge.
3 Stay on budget
Many companies can't pay for a new piece of equipment outright - they might have to wait 3-6 months to save up for a new machine. Fortunately, with renting the costs are spread out over the life of your machine rather than having to pay a lump sum.
4 Grow your business
Renting means you can spread your immediate funds across other investments that help grow your business. Renting gives you the flexibility and funds to move quickly and seize new opportunities.
5 Get tax benefits
When you rent your machine, it's considered an operating expense, whereas when you purchase your machine outright, it's considered a capital expense.
At the moment, if you're a small business in Australia, the threshold for upfront asset write-offs is $30,000. If you purchase a piece of equipment for more than this, you'll need to depreciate it and claim the tax over time.
On the other hand, monthly rental payments can be 100% tax-deductible, with no need to worry about depreciation rules or tracking your tax deduction over the life of your equipment.
(Be sure to seek independent advice from your accountant to confirm your eligibility and how tax deductions work for your company.)
6 Simplify ongoing costs
Finally, monthly rental payments can help simplify things by bundling the ongoing cost of your machine into one simple monthly payment.
Cleaning equipment needs ongoing servicing and maintenance. When you hire cleaning equipment with Tennant ANZ, the company combines its Factory Direct Servicing with the rental payments so you get one fixed price payment every month and a full-maintenance (comprehensive) service programme.
One example of hiring from Tennant
Tennant ANZ recently won a national rental contract from a well-known global food and beverage company with a number of locations across Australia.
As a result, the company has deployed more than 30 machines across five states, including: 6100 and S20 ride-on floor sweepers; M20 and M17 sweeper-scrubber machines, T300 and T500 walk behind scrubbers, and T12 and T16 ride-on scrubbers.
All the scrubbers came with Tennant's ec-H2O technology to fit in with the organisation's global water sustainability initiative. And the company incorporated its IRIS Asset Manager for accurate, streamlined machine reporting.
Tennant supplied all the units within four weeks of the initial order, and completed training nationally on the day of installation.
Although installation is complete for this company, its relationship with Tennant is ongoing. Tennant has assigned an exclusive customer care rep for all enquiries (including invoicing) and connected each site contact with a local direct rep during the installation and training process for ongoing support.
Not only that, but throughout the five-year term, each machine will receive bimonthly Factory Direct Servicing under Tennant's full maintenance service programme.
Tennant Australia
1800 226 843
au.tennantco.com