SIPPEL GROUP'S KEY ROLE IN SYDNEY EXHIBITION CENTRE PROJECT
10-11-2014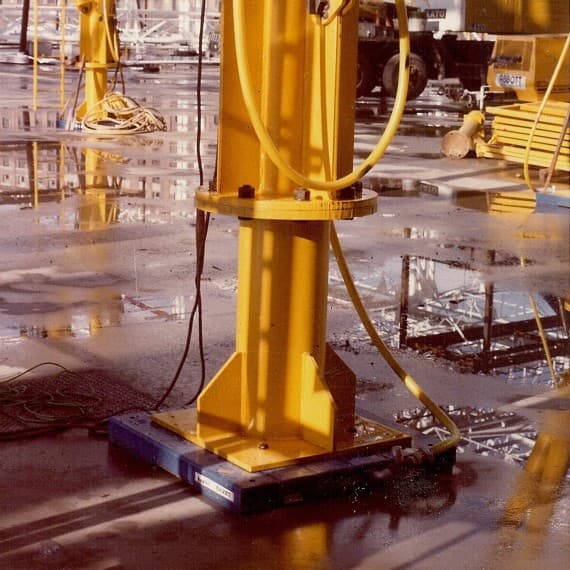 After 25 years of operation, the renowned Sydney Convention and Exhibition Centre closed its doors last year to make way for the development of new $1 billion event and exhibition facilities.
The Centre consisted of six halls, used primarily for exhibitions, but also for gala dinners and other large-scale events.
It was used as the biggest venue for the Sydney Olympic Games outside of Sydney Olympic Park.
Designed by leading architects Philip Cox Richardson Taylor Partners, the complex at Darling Harbour was awarded the John Sulman Medal in 1989.
Demolition of the centre began in January last year, with the new Sydney International Convention, Exhibition and Entertainment Precinct due for completion at the end of 2016.
The Sippel Group, specialists in the movement of heavy machinery and equipment, played a key role in the project.
Sets of Sippel's famous Deadman Operated Airskate Modules were used to move a number of large rigid construction platforms that weighed up to 10 tonnes empty.
To add to the challenge the platforms were loaded with additional construction equipment for erection into the upper section of the Centre. 
The platforms had to be positioned at different heights to accommodate better access to the sloping roofline. 
By using the Sippel Hovair Airskates construction workers were able to save considerable time rather than using traditional demountable and re-erectable demountable type scaffolding.
It was a unique use for a construction environment without any problems during the 18 months the system was in use.  
There were no insurmountable difficulties, safety problems or appreciable wear and tear on the special diaphragm design selected and employed by Sippel Group. 
The Series AS34-HP Airskate sets of four were able to withstand the rigours of the tough construction environment.
Erection contractor Barclay Bros Pty Ltd was able to complete the job on time – with a minimum of fuss. 
Sippel Group
Ph: 02 9567 4889