Simple way to monitor energy use
31-08-2010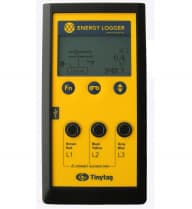 The Tinytag Energy Logger is a simple to use device that can assist businesses to measure energy use.
The Energy Data Logger, from Hastings Data Loggers, has been designed for novices and experts alike.  
Lightweight and compact, the unit is simple to configure and doesn't require complicated set-up or expert knowledge to provide the user with current, voltage and power usage information.
The unit can be used as a hand-held meter for spot checks or as a Data Logger for long-term monitoring to build up energy usage profiles.
Push-button data logging allows the unit to be started without the use of a computer, and recorded data is viewed in the easy to use yet sophisticated Tinytag Explorer software.
The unit is ideal for monitoring building energy supply or individual items of equipment.
You simply select the wiring configurations you want to monitor.
You then follow the on-screen instructions and connect the required current coils and voltage cable as prompted.
Current is measured using flexible coils that can be easily clipped around conductors where rigid clamps will not fit, and the voltage reading is taken from a standard mains cable.
Once connected the unit will self-configure and current, voltage and power readings will be displayed.
When logging the three-phase current and voltage, the unit will record six weeks of data on the default five-minute logging interval.  
The Tinytag Energy Logger boasts better than 3 percent error typical accuracy when compared to a meter reading.
Hastings Data Loggers 
Ph: 1800 243 282