Simple way to keep records
31-08-2010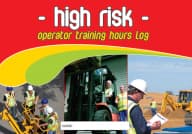 Operator training hours log
Logbooks.com.au is a family-owned and operated company established 12 years ago with the aim of providing easy, simple to use safety check and maintenance logbooks for a wide range of industries.
OH&S regulations state that all plant (machinery) must be checked on the day of use and the results recorded, as well as any maintenance carried out.
Books comprise of 12 months of simple but comprehensive daily checks and maintenance reports that are easily recorded.
This means no more messy, hard to file single sheets.
With skilled staff, compliancy analysis, custom logbooks and personalization can be tailored to suit your specific circumstances.
Their unique simplicity allows instant vital communication between operators and management. This leads to a good relationship across the board, resulting in safer outcomes for people and machinery in the workplace.
Logbooks.com.au
Ph: 03 9587 2695