SIMCENTRAL AND MEADOWS MEDICAL SUPPLY BRING MEDICAL SIMULATION TO THE US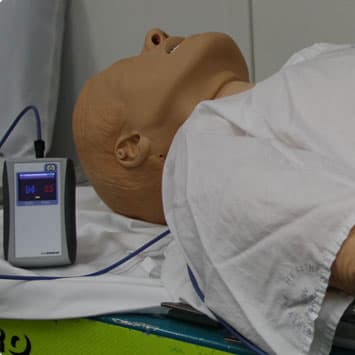 A medical manekin outfitted with a SimOxy, which simulates all the functions of a hand held pulse oximeter.
From the very inception of SimCentral, Craig Herbert and Dr. Richard Morris have worked to innovate in the field of medical training simulation equipment. From inspired beginnings collaborating on the design and manufacture of a cardiopulmonary bypass simulator, to the extensively used SuperAnnie manikin, SimCentral has been a consistent innovator.
After two decades of serving the Australian market, they have partnered with Meadows Medical Supply to reach out to the American medical market and support co-
innovation in the field of healthcare simulation education technology.
This partnership combines SimCentral's diverse background in medical simulation, engineering and product development with Meadows Medical's expert industry knowledge, unsurpassed service and reach in the market.
"SimCentral's simulators are not only unique in their capabilities, but they're also at a great price point for such a high quality product. We're excited to bring the innovations and value SimCentral products offer to our customers." said Sean Meadows, Vice President of Meadows Medical Supply.
Meadows Medical will introduce SimCentral technologies and equipments to their vast client base in the US and represent SimCentral's products and services to the US market. SimCentral and Meadows Medical will also participate together in industry events and trade shows to share their latest innovations.
Together SimCentral and Meadows Medical Supply are bringing the latest innovations and advances in simulation technology to the US healthcare education industry.
Craig Herbert, CEO, SimCentral commented "These simple, practical products help clinicians prepare for real life emergencies. We look forward to working with Meadows Medical to make them available in the USA."
SimCentral
(02) 9558 7013
www.simcentral.com.au