SILICA DUST HAZARD DEMANDS POWERFUL DUST MANAGEMENT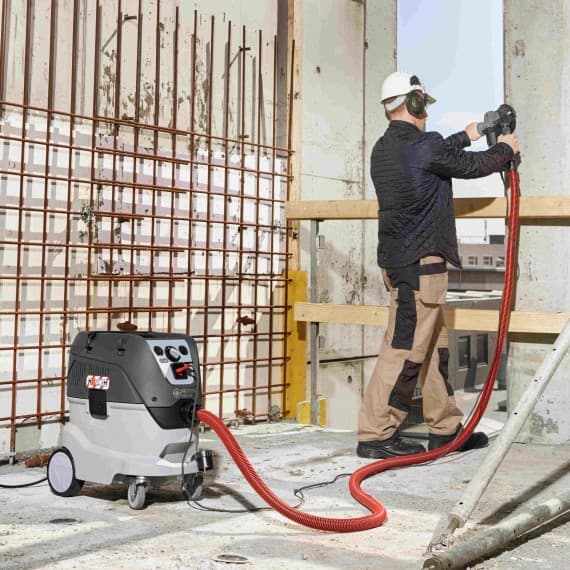 With Cancer Council Australia estimating that more than 230 lung cancer cases in Australia each year are caused by exposure to silica dust in the workplace, it is becoming essential for all workers to follow best practice workplace dust management to reduce the risk of occupational lung disease.
It is estimated that around 600,000 Australian workers each year are exposed to silica dust at work, including miners, construction workers, farmers, engineers, bricklayers and road construction workers, as well as those working in demolition.
Silica is found in stone, rock, sand, gravel and clay, as well as bricks, tiles, concrete and some plastic materials. When these materials are worked on or cut, silica is released as a fine dust that's 100 times smaller than a grain of sand. When inhaled, this dust is the leading cause of silicosis – the most common occupational lung disease worldwide.
Best workplace practice involves minimising dust generation to maintain exposure levels below 0.1mg/m3 of air, wearing respiratory protection and vacuuming with a certified HC machine.
Suitable machinery includes the Nilfisk VHS 40 and 42 series of vacuums, which can act as dust extractors for use with power tools and as vacuum cleaners to remove dust from the working area.
For maximum protection, the dust extractors are available with a combination of a main PTFE filter, an H-class HEPA filter and a fleece filter bag. Several different dust bag options are available for disposal and handling of dust in all types of applications.
In all cases, the novel Nilfisk InfiniClean system is incorporated to ensure continuous protection. This system periodically cleans the main filter using a reverse pulse of air to ensure that the filter performance and suction levels are maintained with no need for manual intervention.
The ruggedly built VHS 40 and 42 series units are stable and easy to manoeuvre, offering ergonomic disposal and transport. All models have flexible storage solutions for hose, accessories and tools, including rubber straps and an optional adapter plate fitting all well-known toolboxes.
Nilfisk
1300 556 710
www.nilfisk.com.au