Silent, efficient rubber isolators and actuators fix weak links in vibrating machinery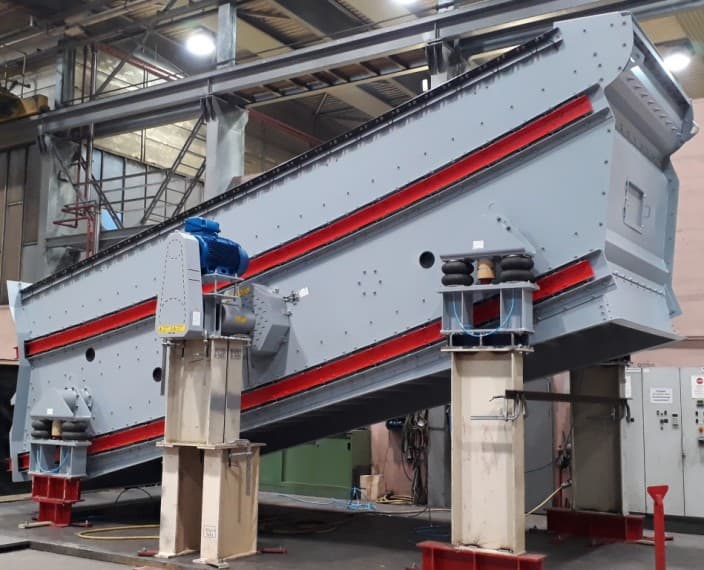 Big vibrating screen air mounts
As industries automate to achieve efficiencies available through Industry 4.0 digital integration, machinery engineers and operators are focusing more on weak links that could disrupt high-speed processes.
Integral to many such processes are conveyors, vibrating screens, crushers, tanks and bin hoppers that must maintain full operational capabilities to feed the bulk handling, production, packaging and despatch processes downstream that depend on them to maintain the flow of product.
But a broken coil spring isolator or actuator in one of these machines can bring processes to a complete halt, sending in maintenance staff to undertake the heavy and hazardous task of disassembling and returning to service the vital machinery used in industries as diverse as dry good bulk materials handling, food and beverage processing, mineral processing, process engineering and conveying of manufacturing inputs.
Actuation and isolation specialists Air Springs Supply Pty Ltd provide silent rubber solutions to such issues with complementary products engineered by Firestone Industrial to overcome both breakage and noise issues endemic to vibrating machinery:
1.    Solid no-maintenance Marsh Mellow rubber and fabric-reinforced bias ply isolators, which offer high load capacity with constant vibration isolation through changing loads. Marsh Mellows will not bottom out like coil springs and offer low natural frequencies to provide excellent isolation (including forced frequencies in the range of 800-1200 cycles a minute, 13-20Hz)
2.    Ruggedly engineered bellows-type air springs Airstroke pneumatic actuators, which are friction-free for immediate response, and complementary Airmount pneumatic actuators, which do not require periodic maintenance or lubrication. They are available in sizes ranging from 58 mm to 940 mm in diameter and 445 kN force capacity (more than 45 metric tonnes), facilitating uses extending from delicate tasks and conveyors, through to heavy shakers, screens and crushers.
Before Marsh Mellows were developed to solve problems with metal springs – including breakdown, replacement and noise – solid rubber springs were either physically too large or became unstable laterally when they were made long enough to provide good isolation. A "stacking" approach to rubber springs answered the latter problem but required complicated mechanical guide systems to control the lateral movement.
The Marsh Mellow fabric-and-rubber spring solved this problem and provides a new and unique way to make use of the many advantages of rubber as an isolator, says Air Springs Supply Sales and Marketing Manager James Maslin.
"The basic construction of the Marsh Mellow spring includes a solid rubber core with a hollow centre, and fabric-reinforced body. The controllable variables of this construction are the keys to the extreme design flexibility that the Marsh Mellow spring offers. And the same springs can eliminate potential problems of broken coil springs causing fragment damage to vibrating, stamping and metal forming equipment," Mr Maslin said.
Marsh Mellow Die Springs can be compressed by up to 40 per cent of their free height at a cycling rate of 50 cycles per minute (cpm) or less. Cycling rates of up to 300 cpm can be attained.  Marsh Mellow springs' high load capability means fewer springs may be needed in an application, resulting in less overall cost. A spring with a smaller overall size than an all-rubber spring of identical load capacity can be chosen, which is an important factor where space is restricted.
Airstroke pneumatic actuators and complementary Airmount Isolators provide a further alternative to metal springs. These internationally proven air springs are, in essence, heavy-duty balloons that contain no internal moving parts to break or wear. The lack of internal friction and inherent rapid cycling capability makes them very suitable for actuation tasks such as conveying equipment and vibrating machinery.
They are also outstanding isolators. Airmounts reliably achieve isolation efficiencies often well above 99 per cent. Their outstanding performance suits them to applications such as suspending vibrating screens or motors and compressors commonly found throughout industrial plants, where they are generally used with weights exceeding 100 kg per mounting point
A common materials handling isolation application is isolation of bin vibration. This type of vibration is typically used to maintain a homogeneous mix or flow of material inside a hopper. It must be isolated from bin supports to prevent structural fatigue.
Steel springs can be used, but they must be tuned to one specific load and a single height. Air springs provide a high degree of isolation compared with other methods, where they are used down to disturbing frequencies of 3-4 Hz. Isolator inflation can be changed to compensate for different loads or heights without compromising isolation efficiency.
Airstrokes and Airmounts offer 40-40,000 kg of pushing or lifting power and strokes (extensions) of up to 350mm, powered by simple, basic compressor equipment found in nearly every factory.
For more information about Air Springs Supply's national distribution and technical assistance network, please contact Air Springs Supply Pty Ltd, Unit 18, 38-46 South St, Rydalmere, NSW, 2116, ph (02) 8877 5500, fax (02) 9807 6979, www.airsprings.com.au, sales@airsprings.com.au.