Materials Handling & Equipment
| Article appears in February 2020 Issue
SILENCE IS GOLDEN IN PALLET HANDLING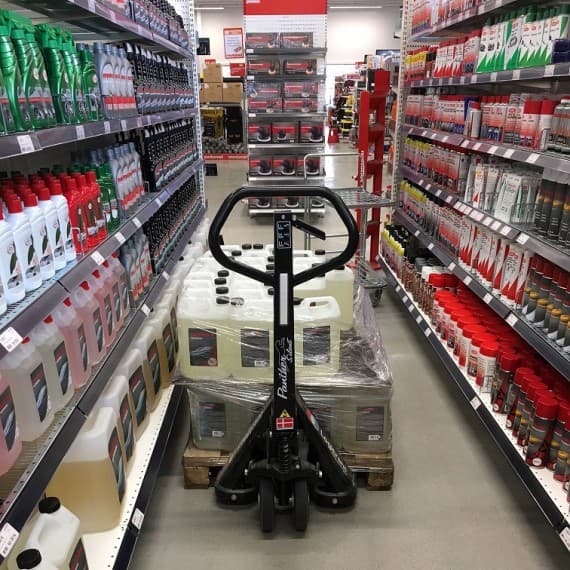 The humble pallet truck is one of the great workhorses of the materials handling sector, and its design has remained unchanged for decades. It is, however, a little "clunky".
With its solid plastic or metal wheels and rigid construction, the basic pallet truck is both noisy and prone to shock and vibration. And while the noise is undesirable in many applications, such as retail spaces, the shock and vibration can be hazardous to users in any application.
Enter the Panther Silent, a new breed of pallet trucks designed and manufactured in Denmark by Logitrans, and available in Australia exclusively from Maverick Equipment.
The Panther Silent is almost exactly what it claims to be – producing no more than 60dBa in use on any surface. And it produces this low noise level due to two key design innovations.
First, it has special soft rubber wheels (both for steering and on the forks). These not only deal with any uneven surface without raising the noise level, they are particularly low in friction, which makes the Panther Silent particularly easy to manoeuvre.
Secondly, all the metal components of the pallet truck are manufactured to extremely tight tolerances and assembled with nylon caps on all the joints to avoid metal-on-metal contact. This removes that "clunky" noise associated with the old-style pallet truck.
The overall design is particularly easy to manoeuvre, with a 210-degree turning angle made easy by the larger than normal 200mm low-friction steering wheels that also reduce the operator effort required to move the load. And the lifting operation is particularly easy on the operator, with fewer pumps of the handle required to raise the load.
"The Panther Silent really is a remarkable machine," says Rohan Plaw of Maverick Equipment, "and we've already had enquiries from a number of blue chip Aussie retailers who are keen to keep noise to an acceptable level for their customers."
"But so quiet and smooth is the Panther Silent that it would be an improvement for many logistics operations – particularly those that operate near residential areas," he adds.
MAVERick Equipment
1800 500 411
www.maverickequipment.com.au