Signalling Beacons Upgrades – E2S, Super Bright and More Options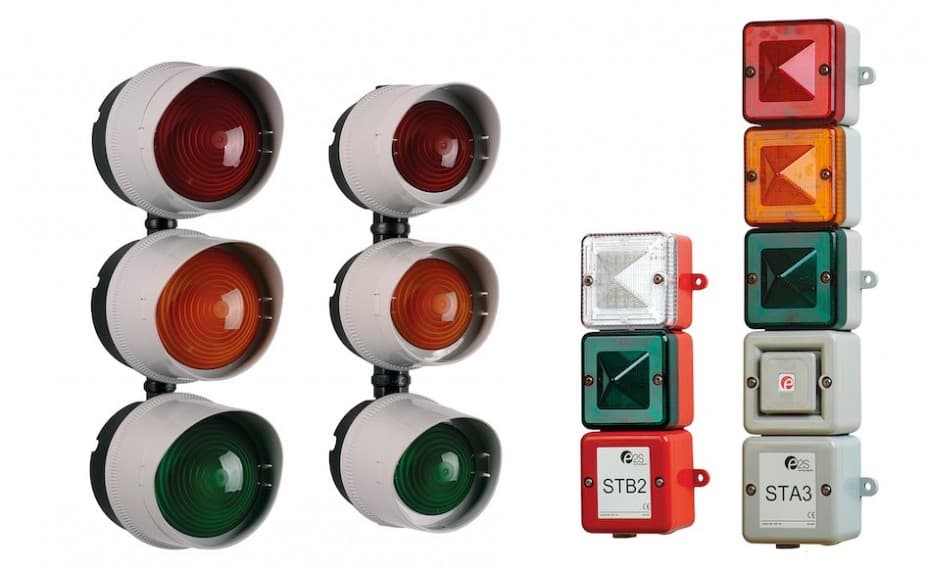 E2S Warning Signals is committed to a programme of continuous product improvements in response to technology advances, regulatory changes and customer feedback.
The latest products to be upgraded are the B2350TLA traffic light warning signal beacons that feature a compact 100 x 140mm housing, ideal for space constrained applications or for mounting directly onto machinery.
The larger 140 x 177mm B450TLA units have also been upgraded.
The light engine for both is an array of 18 high output white LEDs, which give super-bright outputs up to 356 Candela.
The ultrasonic welded diffused lens determines the output light colour: Amber, Blue, Clear, Green, Red, and Yellow are standard, enabling on-site reconfiguration of colours and greater flexibility in inventory management.
There are now seven flash patterns, including a temporal pattern for greater effectiveness, in addition to a steady output for status indication.
The connector included, enables multiple units to be assembled into stacks and dual pluggable terminals simplify cable installation for looped installations.
The operating voltage are ranges are 10-14VDC/16-33VDC and 48-260VAC/DC, the 1Hz flash operating current is only 88mA @ 24Vdc and the operating temperature is a wide -40°C to +70°C.
Also upgraded with the latest 18 white LED array light source are the STA and STB families of customisable stack signals, UL approved for general signalling applications such as status indication, security and process control.
The STA stacks have a SONF1 compact 100dB(A) alarm horn sounder to give an integrated audible/visual unit; the STB family are beacon-only arrays.
Both versions are available with two, three or four units in a stack array which are terminated in a common junction box via a factory-fitted internal wiring loom to give a single external interconnect point.
The UV stable PC lenses are available in Amber, Blue, Clear, Green, Magenta, Red and Yellow.