Published 30-04-2020
| Article appears in April 2020 Issue
THE SHOWS GO ON — A BIT LATER THAN PLANNED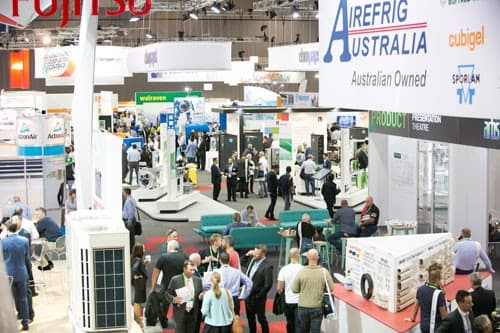 Australian trade shows and exhibitions have fallen victim to COVID-19, but most will take place later this year or early next.
Events were thrown into turmoil in March, when Prime Minister Scott Morrison announced a ban on all non-essential indoor gatherings of more than 100 people.
Most organisers took it on the chin and set about postponing or rescheduling their events. Some have put offerings and information online.
Here is the latest on what's happening when.
ARBS 2020, the Air conditioning, Refrigeration Building Services Exhibition, which was to have been held at Melbourne's Convention & Exhibition Centre from May 19 to 21, has been put back until February 15-17, 2021.
Sue Falcke, ARBS exhibition manager, says the event was moved to a date "when we feel it will be most appropriate and safest to reschedule".
The exhibition will remain at the Melbourne Convention and Exhibition Centre, and the space, floorplan and itinerary will remain the same. The event will host over 300 exhibitors, a renowned industry awards dinner and a series of seminars.
"Through this incredible time of disruption our industry is seeking new ways to keep moving forward," she says, adding that ARBS "is aiming to be part of the solution to rebuilding our industry".
ARBS is preparing to launch a digital offering to provide its 300 exhibitors with "a unique vehicle in which to showcase their latest goods and services whilst reassuring their customers they are still open for business," Falcke adds. "Visitors to the site can keep up to date with the latest information, products and services available.
"And in 2021 we hope to be back stronger than ever with a bumper trade exhibition, an updated seminar program with the very latest information including essential updates and case studies related to the COVID-19."
www.arbs.com.au
THE ADVANCED MANUFACTURING EXPO (AMX), originally scheduled for May 13-15 at the Sydney Showground, will now take place on November 18-20 at the same venue.
It will feature products and exhibits from Australia's top manufacturers, covering six zones: Automation & Robotics, Engineering & Manufacturing Solutions, Industrial Internet of Things, Additive Manufacturing, Welding, and Machine Tools.
The organisers, Reed Exhibitions, promise AMX will be "a unique opportunity to connect with targeted buyers and decision makers by providing the manufacturing industry with a glimpse into the future, delivering the latest technology, research and development to redefine and grow manufacturing businesses".
advancedmanufacturingexpo.com.au
THE WORKPLACE HEALTH & SAFETY SHOW, which had been scheduled for May 27-27 at the Melbourne Convention & Exhibition Centre, will shift back to early 2021, with dates yet to be confirmed.
Held in conjunction with the Australian Institute of Health & Safety's #Safetyscape Convention, the WHSS is an important platform for health and safety professionals across a range of industries — including manufacturing, building and construction, mining, hospitals, transport — to share information about the safety of Australians at work.
So it's ironic the show has been pushed back because of government public-health moves.
"These necessary restrictions are in place to protect all of us," says Marie Kinsella, CEO of International Exhibition and Conference Group (IEC), which organises the event.
IEC Group is contacting its partners, exhibitors and visitors "to discuss how we can continue working together to create environments where people are excited to connect, communicate and collaborate."
The Australian Institute of Health & Safety is in the process of building a virtual #SAFETYSCAPE Convention to be held at the end of May 2020. This virtual event will include opportunities for exhibitors to engage with delegates online.
THE FOODPRO EXPO, which had been scheduled for July 5-8 at the Melbourne Convention & Exhibition Centre, has been postponed until 2021.
For more than 50 years food producers, manufacturers and distributors have exchanged ideas and forged connections at Foodpro. Now they will have to wait until Foodpro 2021, which will take place at the same venue at a date still to be decided.
"We put our customers at the heart of what we do, and this decision has been particularly difficult due to the importance of this event to our industry," the organisers say on their website.
"We are committed to supporting the food manufacturing and processing industry and our customers by offering the option to credit any deposits towards foodpro 2021." foodproexh.com
CeMAT AUSTRALIA, Australia's leading trade fair for intralogistics, materials handling and supply-chain management, was to have taken place at the Melbourne Convention & Exhibition Centre on July 14-16. It has been postponed to September 22-24 at the same venue.
The turmoil wrought by COVID-19 on supply chain makes CeMAT very timely.
The organisers promise that "CeMAT Australia will be the platform for the latest industry innovations and for exchanging ideas and insights on the warehouse of the future".
Leading technology and service providers in the materials-handling and warehousing industries will engage with experts in logistics, warehousing, supply chain, IT and finance in areas ranging from Fast-moving consumer goods to resources.
The "Showcase Theatre" will offer attendees practical take-away solutions to challenges facing end users in the logistics and warehousing industry. www.cemat.com.au
ENERGY NEXT, the renewable-energy industry event that had been scheduled to take place at the Sydney International Convention Centre this July 14-15, has been postponed to July 13-14, 2021.
Organisers Reed Exhibitions says its "number one priority" is the health and safety of exhibitors, attendees, industry partners and staff.
The free-to-attend event, held in conjunction with the Clean Energy Council's Australian Clean Energy Summit, is billed as an opportunity for key players across the renewable-energy industry to connect and build business relationships.
www.energynext.com.au