SHOULD WE BE TESTING FOR TIREDNESS?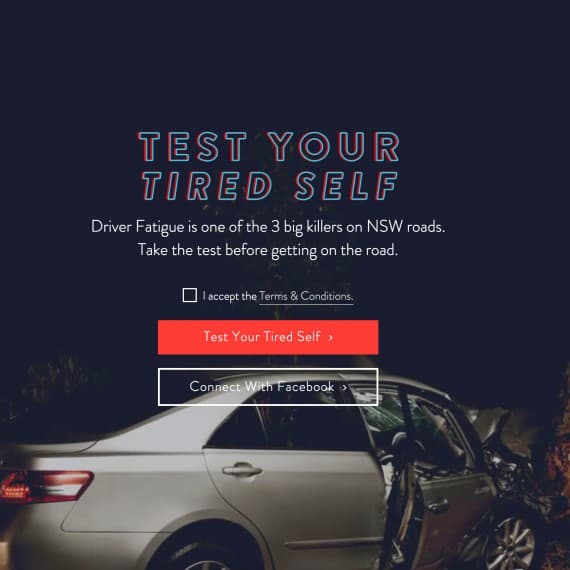 The "Don't trust your tired self" safety campaign includes a self-testing website – testyourtiredself.com.au – that aims to illustrate to users the consequences of tiredness and its effect on driving abilities.
While many companies have transitioned from a drugs and alcohol policy towards a fitness for work policy, it's becoming clear that there are other factors that can impact on a person's ability to function effectively and safely at work.
Shortage of sleep can significantly impair reaction time, motor control, decision-making, and situational awareness. In Australia, more than 10,000 serious workplace injuries annually are attributed to workers who are fatigued due to sleep deprivation.
In addition, statistics indicate that driving while tired is one of the top three causes of fatalities on the roads, and accounts for almost 20% of all serious road traffic accidents. This led to the highly impactful "Don't trust your tired self" safety campaign run over the past few years by Transport for NSW.
However, tiredness in the workplace remains an issue that goes largely unreported for fear of loss of earnings.
Now, researchers at Monash University have identified a range of biological markers that can be linked to reduced alertness. These include eye movement patterns, blood-based metabolites, chemiresistor signal responses and various speech parameters.
"This is a major step forward in the pathway to developing objective tests of fitness to work or drive," said Professor Shantha Rajaratnam, Sleep Programme Leader at Monash Institute of Cognitive and Clinical Neurosciences, and at the Cooperative Research Centre for Alertness, Safety and Productivity (Alertness CRC).
"Biomarkers of sleepiness will provide the foundation for more effective road safety laws and public education about when an individual is too sleepy to drive," Professor Rajaratnam said.
The objective is now to develop portable testing technology for these biomarkers that can be used at the roadside and in the workplace in much the same way that testing is currently carried out for alcohol and drugs.