Published 05-11-2019
| Article appears in November 2019 Issue
SHOPPING TROLLEY CASTORS HAVE SUSTAINABLE DESIGN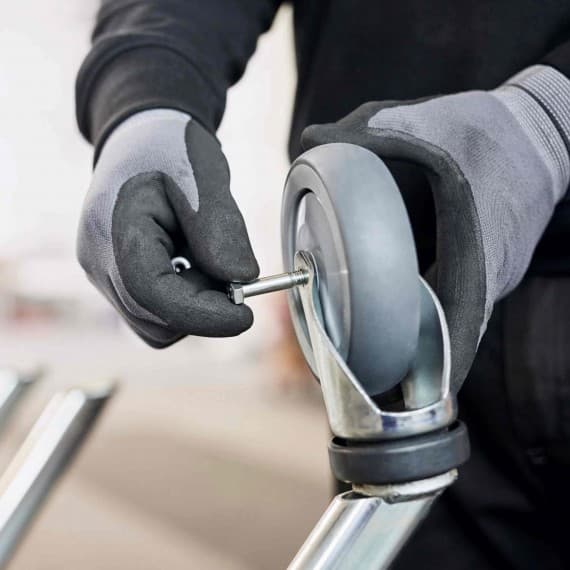 A shopping trolley covers thousands of kilometres in the 10 or so years of its service life, so its castors are subject to significant wear and tear. When carrying out necessary maintenance, the aim should always be to conserve valuable resources and reduce the burden on the environment. So Tente has developed a castor design that enables worn or damaged parts to be replaced – a sustainable design that reduces costs.
ShopBox Group of Heilbronn, near Stuttgart, Germany specialises in the maintenance and repair of shopping trolleys, serving supermarkets in 10 European countries. Its employees maintain and repair soiled grids, jammed child seats and, of course, wheels that shudder, jam or head in the wrong direction.
There are more than 20 million shopping trolleys in use in Germany alone, all of which require regular maintenance. When designing wheels, it is important to focus on environmental factors and how resources are used.
Usually, a trolley's wheels and forks are riveted together, making it impossible to continue to use the remaining intact components if just one part of the unit is defective. But replacing the whole castor is necessary only in about 30 per cent of cases. In the remaining 70 per cent it is only really the wheel that needs to be replaced.
If a wheel needs replacing but the fork is riveted to the wheel, then there is no alternative than to dispose of the fork along with the wheel. This results in unnecessary waste, the loss of resources and increased costs. The alternative is to use castors made by Tente.
ShopBox uses Tente's shopping trolley castors for its maintenance work. Their special feature is that the wheel and fork are not riveted, but connected by a bolt. This enables ShopBox to replace the components separately. If only the wheel is damaged, the fork can still be used.
The bolted connection offers further advantages, for example, when attaching the fork to the shopping trolley. Because the fork is not riveted to the wheel, it allows easier access for fixing. The wheel and fork can also be cleaned more easily when separated, as the dirty areas are easier to reach.
With 40,000 shopping trolley wheels serviced per year, Tente's design is valued by ShopBox and its customers for its sustainability, ease of maintenance and cost efficiency.
ON A ROLL – QUIETLY
Elsewhere in supermarkets, and in the warehouses that supply them, employees move stock on rolling containers that can soon become very noisy, not only for the employees, but also for shoppers and the public.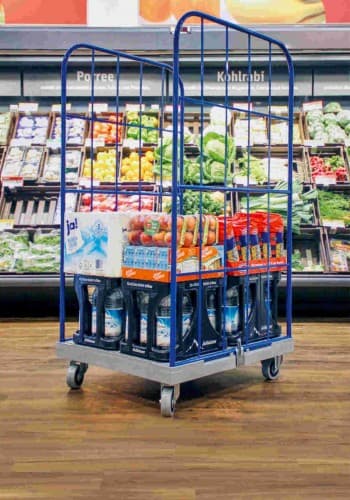 When deliveries are made at night or early in the morning, the noise of containers – loaded or empty, and moving on uneven surfaces – often leads to complaints from local residents. Noise is not only a nuisance, but also has a harmful effect on health: exposure to noise of more than 50dB can increase the risk of developing high blood pressure and cardiovascular problems.
Logistics specialist Gebhardt Logistic Solutions, based in the German town of Cham, near the Czech border, has been a family business for six generations and 185 years, and now employs about 500 people at five production sites worldwide. It has established itself as a market leader in warehousing and transport solutions, developing and producing efficient logistic solutions for supermarkets, hotels and restaurants.
The company does all that it can to reduce noise, including insulation and suspending the containers' base plates, using stretch film when attaching the goods to be transported, and using low-noise Duratech wheels from Tente.
These are hybrid wheels with the body and base made from polyamide with an elastic core of solid rubber. This combination of materials results in significantly reduced noise emissions – 10dB quieter than comparable wheels, which sounds like half the volume.
This solution has impressed Gebhardt's customers. Indeed, the wholesale catering company Transgourmet makes a feature of the low-noise delivery of its goods in its sustainability brochure.
Duratech wheels are also designed for stability and durability, and have been extensively tested to prove it. For example, heavily loaded roll containers are pushed over thresholds and obstacles, and have forklift trucks bump into them. The wheels also have to withstand cold and heat, dirt and rainwater, and show no signs of weakness even in snow.
As a result, they have a service life more than twice that of comparable products, which are used for an average of only two years. In contrast, Duratech low-noise wheels are often used for up to five years, saving costs both in purchasing and maintenance.
Tente Castors & Wheels
1300 836 831
www.tente.com.au