SHIPBUILDING PRECINCT MEANS TRADE WILL FLOAT- NOT SINK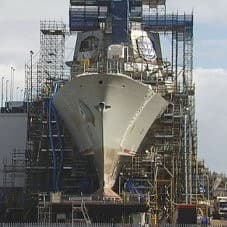 Expressions of interest have now opened for trade works on the Osborne Naval Shipbuilding Precinct infrastructure project, promising up to 600 new construction jobs, and ongoing maintenance procedures. 
Under the project, new facilities will be required to support the continuous build programs for Australia's Future Frigates and Future Submarines.
Minister for Defence Industry Christopher Pyne said that the so-called "shipbuilding valley of death" has ended, and South Australians were now seeing the tangible benefits of the government's historic $90 billion naval shipbuilding programme.
"For the first time in over a decade we are seeing jobs created at Osborne, with up to 600 construction related jobs to be created on the Osborne South Shipyard project," Minister Pyne said.
"The valley of death is over and we are now seeing [an] upturn of employment in naval shipbuilding in our state that will only continue to increase as these new projects gain momentum."
Tenders are currently open for projects requiring:
Civil and pavement works including a new car park, pedestrian bridge over Mersey Road and apron/transition area;
New manufacturing workshops, including steel fabrication, block assembly and erection, blast and paint facilities, offices and amenities;
Upgrades and modernisation of existing maintenance workshops, testing and qualification centres and warehouses; and
Wharf extension.
The expressions of interest to be consideried for tendering of the trade works close on Friday, 16 March. The invitation to register is the first of a two stage project. Lendlease will then select tenderers for particular trade packages from those that register interest.
An industry briefing for the project will be held on Tuesday, 6th March 2018 from 8am to 10am in Adelaide.