SHIPBUILDING JOBS CUT AMIDST PROTEST
08-05-2018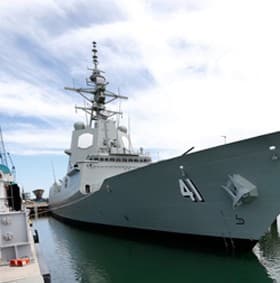 Despite ongoing promises that existing workers would be transferred to other projects once the Air Warfare Destroyer construction comes to a close, 223 jobs have been marked for redundancy. 
"The company anticipates that the number of people required to leave the business will be reduced due to transfer opportunities to ASC's submarine's business," said a spokesperson for the ASC programme. 
The job cuts, 197 blue collar and 26 white collar, are slated to be a mix of voluntary and involuntary packages and will take place in early June. 
The Australian Manufacturing Workers Union said it understood the majority of cuts were permanent full-time highly skilled positions, and vowed to fight for jobs.
SA assistant state secretary, Peter Bauer, said defence industry minister Christopher Pyne had broken a promise to the workers.
"Only a few months ago, minister Pyne was out with a silver shovel, turning over soil at ASC and saying that the valley of death is over," he said. 
"He needs to explain to those workers and to the workers behind me why that statement was made and today we had 197 workers be told that they're going to be leaving the ASC workforce."
Pyne had previously said that there would be 600 jobs required to construct submarines, frigates, and develop OVP projects, and that workers becoming redundant after the AWD project comes to a close would be transferred there. 
In more recent statements, Pyne placed the blame for redundancies on the opposition. 
"The slowdown of work... is the direct result of Labor's failure to commission a single vessel from an Australian yard," he said.
"This inaction has impacted on the stability of shipbuilding jobs as well as the capability of our navy."
With conflicting statements on the future of shipbuilding jobs, workers and union officials are asking for clarity. 
"We're going to be saying to him that's not good enough, what happened to your commitments? If he's worth his salt ... he'll do something about it," said Bauer.