SHARED PARENTAL LEAVE KEY TO ADDRESS STEM TALENT CRISIS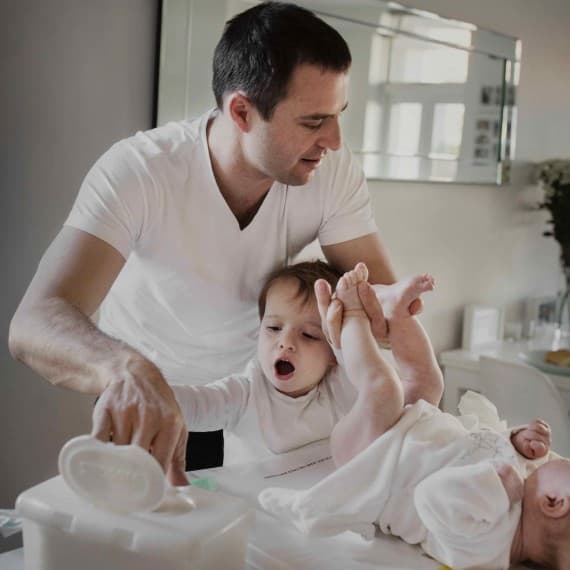 Cicada Innovations, Australia's home of deep tech, believes gender stereotypes preventing fathers' uptake of parental leave are a major impediment to female participation in STEM, citing gender equality as a "business and economic issue" not a "female issue".
Cicada recently hosted a photo exhibition called "Redefining Parenthood", which depicts Australian fathers caring for their young children and doing household chores, showcasing the work of Swedish photographer Johan Bävman, whose previous exhibition "Swedish Dads" toured 35 countries and has been published in book form.
The exhibition pays tribute to Sweden's progressive approach to parental leave. In 1974, the Scandinavian nation was the first to replace "maternity" leave with "parental" leave, and now has one of the most generous parental leave allowances in the world: a total of 480 days, 90 of which are allotted to each parent.
Growing up in Sweden herself, Cicada Innovations CEO Petra Andrén witnessed firsthand the benefits of a society embracing parental leave for both genders, and the advantage this brings to STEM in general and the science-based tech and innovation sectors in particular.
"It's well-known that diverse teams – where gender diversity is a crucial element – are far more successful at innovating than homogeneous teams," she says. "Technology fields that are constantly creating new products and services to meet societal needs require inputs from a broad range of perspectives.
"From my experience in Sweden, mandated shared parental leave could significantly reduce the perception of caregiving as a female job, the 'motherhood penalty', and the fear men can feel that they'll be penalised for taking time off to care for children. I also believe it's something men do want.
"As an example, AI and audio-streaming tech company Spotify recently introduced six months fully paid parental leave for both parents across their global operations, including the US, and within six months of introducing the policy 90 per cent of employees using the benefit were male.
"A lack of female STEM talent is absolutely holding back our ability to reach our full potential in science- based innovation and move to a knowledge-based economy. So when both men and women take parental leave equally, it's good for everyone as it helps to boost productivity in this crucial sector."
A recent PNAS study found that 43 per cent of women in STEM in the US transitioned to part-time work or left the workforce entirely once they became mothers.
Also, Pew Research Centre found that only 16 per cent of people believe it is "ideal" that mothers work full time (70 per cent for fathers), 42 per cent believe mothers should work part time compared (20 per cent for fathers), and 33 per cent that it's best the mother doesn't work at all (4 per cent for fathers).
The red-carpet VIP event featured some of Cicada's most diverse start-up teams and an all-male choir in Cicada's iconic 'steam-punk' atrium. It was attended by deep tech start-up community leaders, female leaders in STEM, government representatives including Shadow Minister the Digital Economy Ed Husic, and NSW young scientist awardee and recent mother Dr Dharmica Mistry.
Photographer Johan Bävman says: "I use portraits of fathers with their children and interviews with dads to aim the spotlight on fathers who prioritise the connection to their children and family before their job and career. During my own paternity leave, I had trouble finding information about parenting from a father's perspective. From reading and seeing other dads who share their thoughts and ideas about parenting, perhaps more men will start to think about their role as a father and as a partner. I think that is an important step on the road towards a more equal society."
Cicada Innovations
02 9209 4444
www.cicadainnovations.com