SHAKING UP SYDNEY METRO'S VIBRATION SITUATION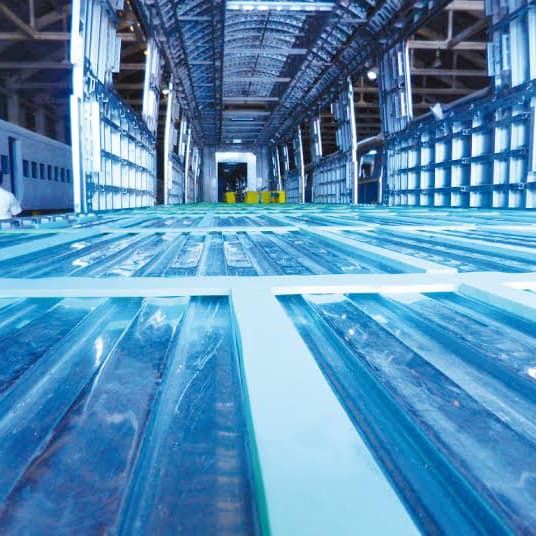 Getzner's innovative anti-vibration materials enhance passenger comfort and lower life-cycle costs of major metro projects.
Getzner Werkstoffe is set to supply almost 300 Sydney train cars with an anti-vibration solution that will reduce noise inside train carriages, and increase the comfort of passengers. 
As a world-class vibration protection specialist, Getzner Werkstoffe supplies elastic bearings as components for floating floor solutions. Their Sylomer FR anti-vibration solution will be installed as a component of the first fully automated metro network in Australia: Sydney Metro. 
Each floating floor installation contains their innovative anti-vibration material, Sylomer Fire-Retardant, which features significant fire-retardant properties in addition to being an excellent vibration dampener.
"Vibration isolating floors lead to less noise in the vehicle and therefore greater passenger comfort", explains Lukas Tschann, Project Manager at Getzner.
"Besides that, our elastic bearings made of the Sylomer Fire-Retardant protect joints, electronic components and sanitary facilities, increasing the durability and lowering life-cycle costs."
The Sydney Metro is slated for entering into commercial service in the first half of 2019. Alstom will supply the trains and decided to enhance passenger comfort and durability by installing the high-tech floating floors from Getzner. 22 train sets will be delivered, each consisting of 6 cars. 
"The Sydney Metro is our first floating floors project in the Australian market," said Tschann.
When deciding for the Getzner solution, safety issues played a key part for the Alstom project managers. Besides increased passenger comfort and lower life-cycle costs, the highest level of fire and safety classifications was a deciding factor.
According to Tschann, external assessments have proven the high level of effectiveness and the convincing long-term behaviour of the elastic materials in the floating floors.
"We won these contracts due to the exceptional performance of our materials, our long experience in equipping rail cars and because of the cost-effectiveness of our solution."
The in-house developed and produced material Sylomer FR reaches highest safety standards. Such vibration protection solutions are not only used in railway and construction applications, but also in industries such as materials handling.