SEW UNVEILS NEW P-X SERIES INDUSTRIAL GEAR UNITS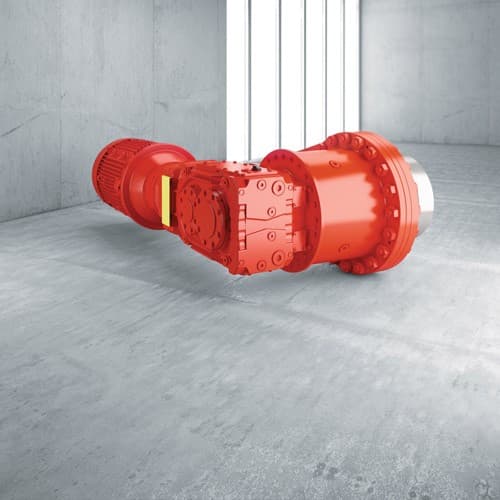 SEW-EURODRIVE has combined the best of two industrial gear unit worlds with its new P-X Series.
Set to launch at Asia-Pacific's International Mining exhibition (AIMEX) in September, the P-X Series combines the advantages of the planetary gear units and the X Series bevel-helical gear units.
Thanks to the integrated intermediate flange, the P-X range offers compact drives with lower weight and greater stiffness for a torque range between 100 and 500 kNm.
The P-X drives can be used wherever high performance and torque are required in a compact package, for example as drives for bucket-wheel reclaimers, apron feeders, crushers or compact belt drives.
The P-X bevel-helical planetary gear units are available in seven sizes and cover a torque range from 100 to 500 kNm.
The gear ratio range extends from i = 160 to i = 550.
The P-X Series is designed for high thermal ratings, as it boasts a shared oil chamber and a thermally optimised housing.
It can be used at low temperatures below -25 °C in conjunction with heaters and heating mats.
Both sides of the symmetrical invertible housing construction are fitted with inspection covers.
The motor adapters are compatible up to motor size IEC 355 with 500 kW.
On the input end, SEW-EURODRIVE offers the option of various motor adapters with fans, free input shafts and other features.
On the output end, standardised output shafts are available as hollow shafts with shrink disks, solid shafts with keys or as smooth models.
Installation is possible as a foot- or flange-mounted design or shaft mounted with a torque arm.
To learn more visit SEW-EURODRIVE at AIMEX: Stand 1311, Sydney Showgrounds, Homebush, September 1-4.
SEW-EURODRIVE
Ph: 03 9933 1000