SEW unveils latest girth gears at AIMEX
31-08-2010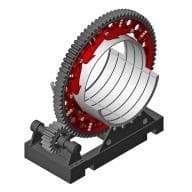 SEW-Eurodrive will present its segmented girth gear solution for transmitting energy in large, rotating systems at the Asia-Pacific International Mining Exhibition (AIMEX) in Sydney next month.
SEW-Eurodrive's National Products Manager for Industrial Gears, Ian Tribe says the design principles of the segmented girth gear solution simplify transportation, assembly and servicing in these applications. "Our girth gears aren't just single pieces, but rather made up of multiple identical segments whose number depends on the overall diameter," says Tribe. "Assembling these girth gears using a spring cup or flange is also much easier with this solution."
SEW-Eurodrive currently produces segmented girth gears with a pitch diameter up to 16m and a width up to 600mm. Due to the segmented design principles even larger diameters and widths are possible.
The power range reaches up to 2500 kW per pinion.
The use of special ADI cast material means that SEW-Eurodrive girth gears have industry leading material properties providing minimal wear. This enables SEW to offer a smaller tooth width than competing technologies can, allowing customers to save on the overall system.
SEW-Eurodrive provides customer-specific solutions within its existing product range, delivering not only segmented girth gears, but, the entire drive package. 
"We can engineer the complete drive solution, providing our customers with ease of ordering and an efficient end system," said Tribe.
Girth gears are used to drive grinding mills, kilns and rotary dryers. 
The solution requires a high level of consulting. 
SEW-Eurodrive can also help customers find technically and economically optimised solutions for other applications.
To learn more visit SEW-Eurodrive at AIMEX (Stand 1311), Sydney Showgrounds, August, 20-23.
SEW-Eurodrive Pty Ltd
Ph: 03 9933 1000