SEW sponsors Ancient Rome Exhibition
31-08-2010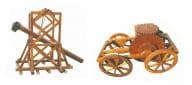 Past glory … two of the intricately crafted exhibits on display at the Ancient Rome Exhibition. Photo: Nicccolai Teknoart SNF (Firenze).
Drive solutions group, SEW-Eurodrive, is a major sponsor of The Ancient Rome Exhibition: The Empire that Shaped the World, now showing in Melbourne. 
The exhibition brings to life the incredible technology and mighty war machines of the Roman Empire not seen in over 2000 years.
The Roman period was an era of massive construction and large-scale technical innovation. 
With over 50 exhibits on display, including the land odometer – a complex but ingenious method of measuring distances on land and water – the exhibition gives a fascinating insight into the origins of technology produced in the modern era by companies such as SEW-Eurodrive. 
"SEW-Eurodrive is delighted to be a part of the world premiere of the exhibition, said Managing Director Robert Merola. 
"It is a unique opportunity for Australians to explore the technology of Ancient Rome- a testament to engineering ingenuity," he said. "It is always the exceptional achievements of individual thinkers, with ingenious ideas and clever decisions that drive engineering achievements."
The interactive exhibition is now showing at the custom-built Docklands Pavilion in Melbourne until July 15.
SEW-Eurodrive Pty Ltd
Ph: 03 9933 1000