SEW offers the perfect gear for hygienic areas
31-08-2010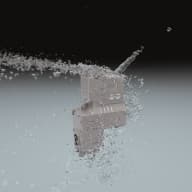 Food and beverage and pharmaceutical industries place high hygienic demands on their production facilities.
MOVIGEAR from SEW-Eurodrive can meet and often surpass these operating requirements with its hygienic surface design.
MOVIGEAR, a mechatronic drive system, sets entirely new standards with respect to efficiency and functionality.
The hygienic surface design finished with "teflon-like" coating minimises cleaning efforts, which leads to reduced cleaning and system downtimes and ultimately reduces operating costs.
Inherently the smooth surface design prevents the build-up of debris – the units are virtually self-cleaning.
The totally enclosed mechatronic drive system applies the principle of surface cooling, eliminating the need of motor fans.
Dispersing air and the spread of germs and bacteria due to air swirls are a thing of the past with MOVIGEAR.
The high degree of ingress protection ensures maximum reliability. MOVIGEAR meets IE4 (Super Premium) efficiency standard, and is available in two physical sizes and numerous mounting options.
Advantages:
Compact unit design
Highest degree of efficiency
Reduced number of variants due to wide speed range
Extremely high starting torque
High degree of Ingress protection