SEW-EURODRIVE TO LAUNCH X SERIES AGITATOR RANGE AT AIMEX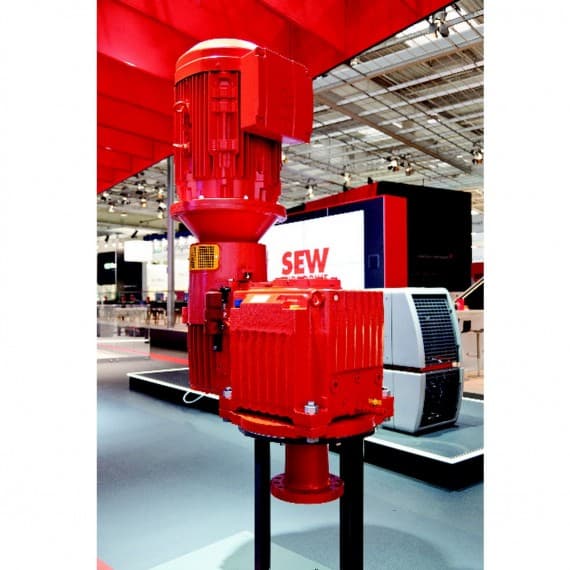 SEW-EURODRIVE will present its new application gear unit for agitators at September's Asia-Pacific International Mining Exhibition (AIMEX).
The X Series Agitator range from SEW-EURODRIVE is purpose built for agitating and mixing applications within the mining and minerals processing industries.
This solution is perfect for when high bending moments combined with high levels of torque are required.
The range is suitable for the most extreme conditions, such as high ambient temperatures or ATEX.
In addition to the torque that has to be transmitted, high radial or axial forces are often brought to bear on the output shaft.
With a flexible product concept, SEW-EURODRIVE offers a standardised solution with load-specific bearing and output shaft combinations.
Depending on the load criteria there are different options available within the X Series Agitator range:
For light loads
A model with a universal housing for helical gear units and bevel-helical gear units (2- to 4-stage) is available for the torque range between 6.8 and 475 kNm.
This solution is available as 2- to 4-stage helical gear units and bevel-helical gear units.
It is based on the combination of a universal housing with reinforced bearing design.
For medium and heavy loads
Two models are available in the 22 to 90 kNm torque range.
These feature a roller bearing design with increased bearing distances.
All drives are suitable for use in ATEX scenarios and can be combined with the standard options of "drywell" seal, pressure lubrication/oil bath lubrication, rigid flange coupling, fan cooling, and foot- or flange-mounting.
This solution is available as a 3-stage helical gear unit.
The thermal rating of this model has been increased thanks to the use of an optimised vertical housing with cooling fins, axial fans, etc.
The range has been constructed for light, medium and heavy loads, and will be a standard solution from SEW-EURODRIVE in heavy-load applications.
To learn more about SEW-EURODRIVE's new X Series Agitator range visit SEW-EURODRIVE at AIMEX: Stand 1311, Sydney Showgrounds, Homebush September 1-4.
SEW-EURODRIVE
Ph: 03 9933 1000