Seven times lucky for ANCA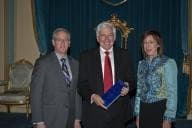 Richard Dalla-Riva (VIC Minister for Industrial Relations & Manufacturing and Exports & Trade) and VIC Governor Marilyn Warren present the award to Pat Boland, ANCA Co-founder and Director Pat Boland (centre)
ANCA has won the Large Advanced Manufacturer category in the Governor of Victoria Export Awards for the seventh time.
The company will now move through to the national finals in Canberra later this year. 
ANCA, an Australian owned and based leader in precision manufacturing, experienced strong growth last year.
The company makes a significant investment to the Australian economy, with 98 per cent of its products exported globally with major markets in Germany, Japan, China and the US. 
ANCA has defied the odds to achieve success on a global scale in a sector traditionally dominated by German and Swiss companies. The business continues to invest heavily in research and development, create industry firsts and has built a specialist team of around 350 at its head office in Bayswater, Melbourne. Founded in 1974 the business is a leading manufacturer of CNC tool and cutter grinders.
The award is one of the most prestigious business awards in Victoria rewarding the most successful and innovative exporters with the stamp of international success. It is the seventh time the business has won this award for continued efforts to drive growth in the Australian economy.
ANCA reported almost 20 percent export sales increase in the 2011/2012 financial year, with significant success developing the Chinese, South American and Indian markets. 
ANCA Pty Ltd
Ph: 03 9751 7300