Seven reasons to choose new Objet 3D printer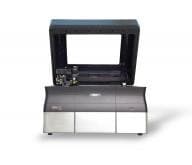 Top-of-the-line … the new Objet30 Pro
Objet Ltd, a leader in 3D printing for rapid prototyping and additive manufacturing, has launched a new versatile desktop 3D printer with an expanded choice of seven different printing materials.
The new Objet30 Pro is the first desktop system only desktop system to offer clear transparency and high temperature resistant material.
The Objet30 Pro is the ideal rapid prototyping solution for designers and engineers, ranging from industries such as consumer goods and consumer electronics to medical devices and design consultancies.
The Objet30 Pro takes its place as the new top-of-the-line addition to Objet's existing desktop 3D printer line.
With a small footprint, professional 28 micron print quality and wide ranging material versatility, the Objet30 Pro offers designers and engineers:
Objet clear transparent material (Objet VeroClear) for simulating PMMA/glass
Objet High temperature material for heat-resistant static functional testing
Objet polypropylene-like material (Objet DurusWhite) for simulating snap-fit parts and     
Four rigid, opaque materials for standard plastic simulation (Objet Vero Family in black, white, grey and blue).
Objet Ltd
Ph: 02 9291 3387