Sevaan expands to meet growing demand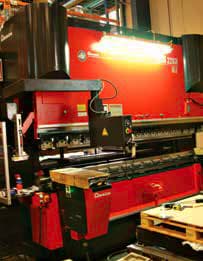 Sevaan Group is growing the technical capability of its production plant to cope with growing demand.
The company has taken delivery of two new machines – a high-tech milling machine and a large press.
Its milling machine is a 4-axis state-of-the-art Mori Seiki unit to facilitate complicated and intricate orders for all industries.
And the new 260 tonne press that can bend 25mm plate steel will cater for heavy gauge manufacture for larger clients involved in rail, mining and the Defence industries.
Sevaan Group CEO Tony Panrucker said: "These two new pieces of equipment not only facilitate current demand but they also synchronise with machinery we already have on our factory floor."
He expects each machine to have a life cycle and is confident of fully utilising their capabilities to cater for an increasingly intricate nature of winning orders.
"As a result, the Sevaan Group is growing exceptionally well in what is being globally accepted as very difficult times for manufacturing companies, said Mr Panrucker.
"We now have a complete set of technologies to cater just about any engineering or manufacturing requirement across the industry spectrum and have even set up our own blasting room for powder coating."
Sevaan Group
Ph: 02 9824 5555