Sevaan apprentice races to new heights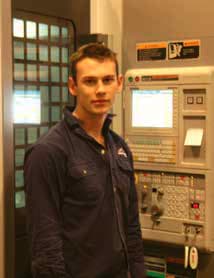 Multi-faceted contract engineer and fabricator Sevaan Group has always placed great emphasis on staff training.
In fact the company believes it is established well enough to be a complete training centre for younger employees.
Sevaan currently has six new apprentices among its staff including a trainee laser programmer covering disciplines including fitter and turner, sheet metal fabrication and welding.
As well as investing in trainees, the company also invests in world-class machinery.
And Sevaan aims to make as many staff as possible familiar with all technologies on its production floor.
This, according to management, is a form of cross training – a level of shop floor knowledge insurance that keeps employees conversant with as many of its technologies as possible.
One example is fitter machinist Mr Keiran Sproule. He is learning in all areas of the company's machine department, such as milling machines.
Keiran, a keen Motocross racer in his spare time, has already started learning to program with CAD/CAM software and will also receive ongoing tuition about equipment maintenance and how the machine works.
That way he, like all other production floor staff, can have an appreciation of how to keep the sophisticated machine performing accurately through routine maintenance.
"CNC takes a lot of experience and practice before anyone can claim to be very good at it," says Keiran.
"Working with Ben Collins has been a very good thing for me as there is no substitute for extensive experience when it comes to using technical equipment that is driven by powerful software."
Ben Collins, the current Mori Seiki machining centre specialist began his working career with an apprenticeship served at one of the companies amalgamated under Sevaan Group before taking up an offer from Mori Seiki where he learned this brand inside out.
Now he has returned to the company under its current, modern structure and is considered one of the finest Mori Seiki machining centre experts in Australia.
Under its current structure, Sevaan Group also has a paint and powder coating facility, a robotic welding bay, a 220 tonne state of the art bender and a newly commissioned grit blasting centre with in-built enviro waste sorter
"I am surrounded by experienced managers, plus I have expert colleagues such as Ben who is an excellent help because the software that powers the technologies we use is very powerful and sometimes complex," said Keiran.
"But the biggest surprise in this role is how really challenges me to use my intelligence and analytical abilities. This suits me just fine because I am not the kind of person that just likes standing there wishing away the hours.
"Apart from receiving an excellent career path through this apprenticeship, an added advantage is the knowledge I get from operating the Mori Seiki equipment can be applied to my own hobby by way of fixing or making customised parts for my own motorbike passion."