Setting a new benchmark in safety: Optrel welding helmets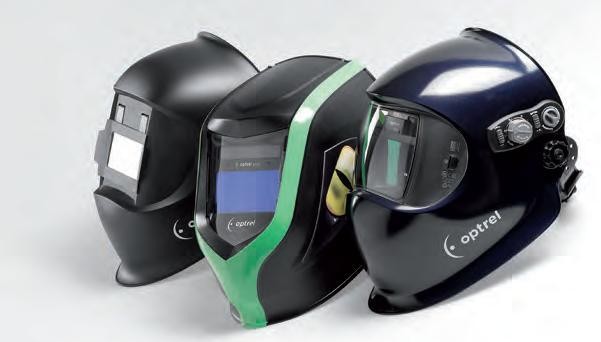 When it comes to worker safety, Optrel welding helmets are setting a new industry benchmark.
All Optrel welding helmets are certified to ASNZS 1337 and 1338, and approved by SAI Global.
An outstanding characteristic of the latest range of Optrel helmets is their High Impact Capability.
Both the Optrel e680 and Optrel Galaxy Flip Front models feature a High (V) Impact Capability Rating for the helmet shell as well as the safety protection plate located in the front of the eyes.
High Impact Capability approved helmets provide the highest safety standards.
Another major benefit of Optrel helmets is the high-end quality of the ADF.
This can be attributed to the following:
• 100 percent incoming LCD inspection control to sort out potential failures of little pinholes that could lead to eye damage
• High-end electronics inside the helmet (eg temperature compensated electronics -5 to +70°). That means constant shade level quality over the full temperature range.
Many helmets now available have cheap electronics inside. This can cause significant variances of two shade levels.
For example, set shade level 9 can vary from 7 to 11 over the whole temperate range. This can result in a significant comfort loss for the welder, especially if they weld with higher amperage and hence higher temperate.
Welders should always look at the specs and ask for assurance of the spec for the whole temp range – ie Best European standard classification (EN 379) for three characteristics; Class 1 (best class) for optical class/ Class 1 (best class) for diffusion of light/ Class 1 (best class) for variation on luminous transmittance.
End-users should ask manufacturers to provide EN 379 specs.
This means consumers get a better comparison transparency between ADF qualities of different manufacturers.
Worse quality means quality decrease and worse sight for the welder, which in turn means less accurate welding quality.
Optrel welding helmets offer welders the ultimate in face and head protection
Welders using the Optrel Galaxy High Impact Welding Helmet are guaranteed that they are using a quality endorsed product which is approved, and does not just conform to the standards.
Optrel welding helmets are distributed through Honeywell Safety Products, a leading provider of personal protective equipment.
Honeywell Safety Products
Ph: 1300 139 166