Product News, Materials Handling & Equipment, Plant & Machinery
Published 25-05-2021
| Article appears in June 2021 Issue
Serpent & Dove – Applied Magnetics attracts drillers in a hole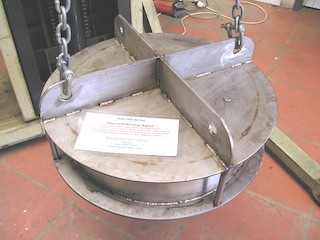 It takes a pretty "angry" magnet to recover several hundred kilos of steel from a borehole, or retrieve a broken drill bit from any other hole drilled into the earth.
Fortunately, Serpent & Dove – Applied Magnetics has had plenty of experience in assisting drill operators in recovering such problem items from boreholes and shafts.
Usually what is required is a permanent magnet which does not weigh too much itself yet delivers a very strong, multi-poled face to the irregular shape of a piece of steel down a hole. Frequently the broken drill or other equipment is also embedded in mud or slime.
Serpent & Dove has several down-hole magnets of various sizes, up to around 400 mm in diameter (capable of recovering up to 1,000 Kg), to answer urgent requirements. These are usually available off the shelf.
Serpent & Dove's down-hole recovery magnets feature a deep-reaching, multi-pole, rare-earth neodymium magnet element encased in epoxy resin and with a robust, rated lifting eye.