Seriously clean, environmentally aware and healthy RV trips need seriously reliable Duoetto hot water for Pro Camp Solutions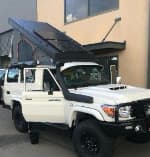 Australian expedition vehicle custom builders, Pro Camp Solutions, specialise in creating 4WDs and vehicles geared up for serious trips – including harsh conditions and locations without power.
Pro Camp is also strongly environmentally and health-aware, equipping its vehicles with a source of hot water that does not pollute pristine environments, gives plenty of personal hot water to guard against covid and other nasties, and doesn't rely on burning to produce heat and purify drinking water in bushfire-prone environments.
For reliable hot water, even in the middle of the Aussie Outback, or a remote coastal location, Pro Camp Solutions uses the rugged Australian-designed Duoetto MK2 10L dual 12V/240V water heater manufactured by Aus J Hot Water Solutions.
"We've been fitting Duoettos to our custom builds for more than five years now, and they suit our applications seamlessly, with Aus J offering all the options we need for different builds," says Jan Nel, Director and Co-Owner, Pro Camp Solutions.
"They are a simple, but highly effective product. To install them is an absolute breeze, and I honestly cannot fault them. The value-for-money factor makes them highly appealing as well," he says.
The Duoetto MK2 – which offers selectable temperatures between 30-75 deg C on 240V – is ideally suited to custom RV, van, campervan, trailer and boating builds, and Aus J has sold more than 30,000 water heaters worldwide, including the US, North America, Africa, UK, the Middle East and throughout the Asia-Pacific and Australasian regions.
Aus J Managing Director Jay King says it's the ability to switch to 12V where mains power isn't available that makes the Duoetto such an innovative and useful product for adventurers around the globe.
"Hot water is a comfort we all want when out on the road, or on the water. It can make the difference between a family trip that you barely survive, and one that's thoroughly enjoyable, with warm showers and hot water to clean the dishes or for other hygiene purposes," he said.
"Plus, they offer pollution-free performance, so there's no risk of carbon monoxide or other fossil fuels entering a vehicle that's being used as a living space."
Keeping clean and dirty water separate
One of the common customisations customers request of Pro Camp Solutions is to set up a system that ensures on-board drinking water does not get contaminated or tainted from a creek or river.
Mr Nel explains that for this, he uses the Duoetto MK2 in conjunction with an Egon water system called Water Hub. The system effectively works on the same principal using a two pump system with valves.
"This set-up allows us to draw water from two sources, one that is onboard via a tank, which is regarded as clean and the other that is external via jerry can or bucket, which is regarded as tainted."
"The water from the clean source can go to the boiler, shower and tap outlets, while the water from the external source can only go to the boiler for showering. The valves ensure the two are never mixed."
"The Duoetto works brilliantly in this set-up. And in cases where a large water system like this doesn't fit, we build a deconstructed version that essentially performs the same function," he said.
Service drives success
In addition to supplying reliable products with a comprehensive range of attachments and accessories, Mr Nel says it's the service from Jay that has stood out over the years.
"We're a small but highly specialised company, especially compared to some of the larger RV clients Jay has, but he always gives us the same dedicated and outstanding service as the bigger players. The ease of doing business like this is so appreciated," he says.
"The way Jay conducts himself and his business is the type of company that you want to work with as a partner supplier. To treat a company like ours the same as any other big operation says a lot about a person and their ethics. He clearly has a passion for his business and products and that instils confidence in us that when we sell a solution involving a Duoetto to a customer – it's totally backed in the field."
"One of the ways we conduct our business is that we are not brand biased. We have preferred brands and products that we trust, but at the end of the day, whatever suits the customer's needs best is what we'll put in the vehicle. The fact that we've only ever used Aus J for water heaters says a lot about the products and the business," he said.
Duoetto MK2 product background and features
The Duoetto MK2 has a number of upgrades on the previous version, designed to give the new water heater even greater longevity than the original, which has become OEM equipment on major campers in Australia and in export markets because of its functionality and reliability in service over a wide range of use and climatic conditions.
Upgrades include:
• An Incoloy 840 heating element, which gives superior corrosion resistance and is designed for optimum use in extreme environments and temperatures.
• A single weld line tank for a sturdier construction, reduced water leakage and extended product life.
• Polyurethane insulation to maintain temperatures and reduce energy consumption. This is an environmentally harmonious CFC-free material.
• SPCC steel and enamel tank for improved corrosion resistance
• Digital temperature control for ease of control and readability, fully adjustable from 30-70 deg C
The Duoetto MK2 comes with internationally recognised Australian WaterMark accreditation, which means that it passed tests and requirements regarding its suitability for supplying water for human consumption. These tests encompass taste, smell, toxins and corrosive effects on plumbing and pipework.
Drawing a miniscule 4.2 amps at 240V (1000w) and 25 amps at 12v (300w), the 409 x 262 x 267mm Duoetto MK2 retains the strengths of its predecessor, including:
• Manufactured to Australian Standard AS/NZS 3350.1.1:2002 and with WaterMark certification to Australian Standard AS/NZS 3498:2009
• Adjustable thermostat on 240V up to 75o
• Durable outer case with service and inspection points
• The water heater connects to 12V DC power supply meaning there is no need for a generator, inverter or 240V power supply.
• Integrated magnesium sacrificial anode protects against galvanic corrosion and extends the life of the water heater.
• Thermal cutout
• Over-heat protection
• Combination brass pressure relief valve
Aus J Hot Water Solutions (www.ausj.com.au) offers a range of innovative gas and electric water heaters with models for domestic, commercial and recreational applications, including a 240v 10-litre Aqueous water heater designed to provide homes with near-instant hot water and reduce the wastage by having the heater located under the sink.
For further information, please call mob 61 - 419 993 042 or email sales@ausj.com.au