SEPARATOR SYSTEM SIMPLIFIES ENERGY CHAIN HARNESSING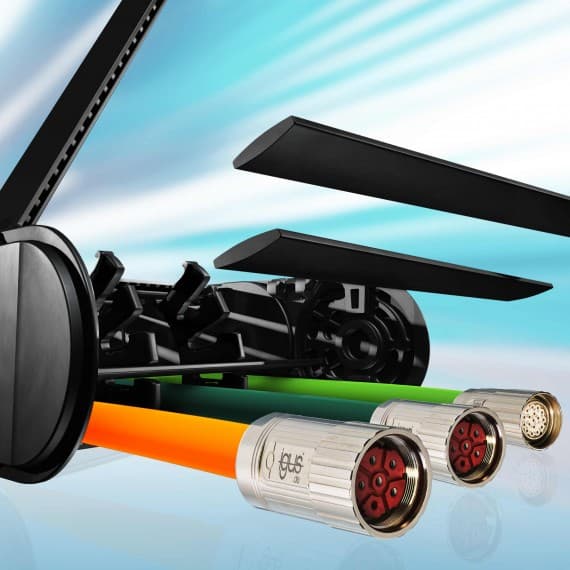 Motion plastics specialist igus has come up with a new design of energy chain that can be harnessed up to 80% faster than any other. The E4.1L is the lightest cable-carrying e-chain on the market, and features a new type of separator system that makes installation much easier for the customer.
Easy to open and fill from all sides as required, the E4.1L offers outstanding flexibility for harnessing. It is now very easy to insert shelves on several levels for interior separation as required. In addition, the opening mechanism of the crossbars along the inner and outer radii guarantees fast filling with cables and hoses.
These captive crossbars, which can be opened with a screwdriver, can be pivoted open to 115 degrees and latched into their final position. If necessary, they can even be removed completely, fitted again and closed by just pressing down.
The rounded edges of the crossbars and separators of the chain also ensure a long service life for hoses and cables. In addition, notches and a positioning scale enable optimum separation of the energy chain.
In addition to special harnessing, igus also offers ready-harnessed systems from a single source, whether they be simple or complex, from planning and design of the energy chain systems through to individual harnessing and on-site installation.
The company's readychain range comprises the ideal combination of energy chain and matching cables for moving applications. All the moving components have been developed, tested and optimised to work with each other in igus' own test laboratory.
With these readychains, customers receive a complete and reliable pre-harnessed system direct from the manufacturer, including a guarantee. At the same time, the number of suppliers and orders can be reduced by up to 75%, while storage and process costs are avoided.
Treotham Automation
02 9907 1788
www.treotham.com.au