Published 07-11-2019
| Article appears in November 2019 Issue
SENSOR SPECIALIST HAS EXPANSION ON THE RADAR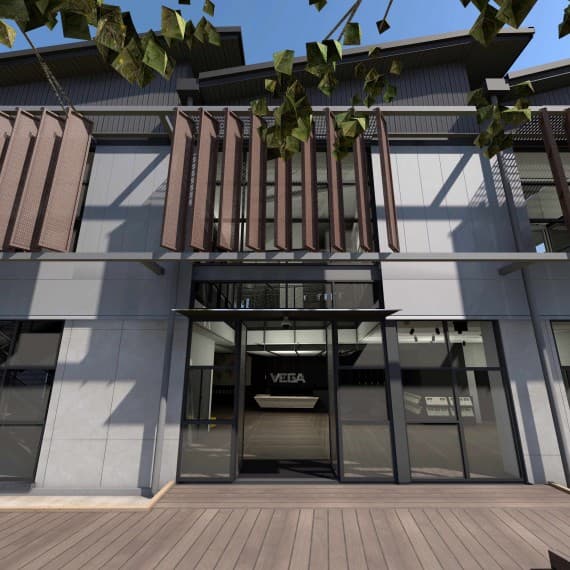 It may have taken 32 years, but the opening of the new VEGA Australia headquarters in Caringbah "clearly shows that we're here to stay", in the words of Managing Director John Leadbetter.
The new facility, with its three separate buildings provides a total of 2800m2 of office and warehouse space together with a purpose designed training and conference centre. And the site has been designed and architected as a crossover between the Black Forest and Australia, combining the company's German parenthood with its local workforce.
The sensor manufacturer's growth in Australia has been impressive. The local company was set up in 1987 at Brookvale on Sydney's Northern Beaches. Steady early market expansion saw VEGA Australia move to a new home at Kirrawee in the Sutherland Shire in 2000.
With a total of 480m2 of offices, stores and service, the new premises seemed made to measure for Leadbetter. But a little over decade on, the limitations started to become apparent: with a growing workforce shortage of space was becoming an issue.
"We had to become rather creative with our use of space," says Leadbetter. "With only one meetings room, scheduling things like training and other functions was becoming difficult. And the stores and service department were starting to fill up as well."
John Leadbetter could envisage a much better way of doing business. And with the approval of the VEGA management in Germany, in 2015 he purchased a plot of land in Caringbah and began work with architects to design the ideal base for VEGA Australia.
That design work took fully two years, with development approval being awarded late in 2017, and the construction tender awarded in July 2018.
Leadbetter explains that there's a concept within VEGA of "design for tomorrow", and he made sure that the new base was designed very much with tomorrow's requirements in mind, rather than just today's.
So, for example, while VEGA Australia's current headcount of 26 staff includes 12 who are permanently on the road, the new office has space for 36 staff (not to mention 32 parking bays, compared with the six at Kirrawee).
That extra office space will give Leadbetter the green light to immediately increase his support staff to cater for the company's growth. And while the company has doubled its turnover over the past five years, that has been achieved with limited resources due to the lack of space at Kirrawee.
The new warehouse at Caringbah is twice the size of the old one, and it has been designed with security very much in mind – which is significant as it will be holding upwards of $4 million worth of stock. And Leadbetter maintains that having that level of inventory available in Australia could make the difference between winning a contract and losing it to a competitor.
One key advance for VEGA Australia comes in the shape of the third building on the new site – a dedicated training centre. This has facilities for up to 32 people at a time to receive what John Leadbetter describes as "proper training – not death by PowerPoint".
Those facilities include the latest in networking and communications equipment across the whole site, providing the bandwidth required by a company that conducts its business across multiple timezones, with three in Australia plus the corporate base in Germany.
But it's not just space and technology that the new base will bring to VEGA Australia, the buildings have been designed to the latest buildings standards, with extensive use of skylights and cross-breezes to reduce the lighting and climate control costs. And the sustainable materials that have been used to reflect the "Black Forest meets Australia" theme include timber floors and decking with stainless-steel rails.
Central to the site is an outdoor area with five mature gum trees around which the admin block, warehouse and training centre have been built, providing a quiet oasis for staff to take a break. (That's after they have visited the new lunchroom – a facility that was sorely missing from Kirrawee.)
"People should enjoy coming to work," says Leadbetter. "That's a key feature of the Australian lifestyle, and we think we've created a workplace that reflects it."
Vega Australia
02 9542 6662
www.vega.com