SENSOR MEASURES TEMPERATURE, HUMIDITY AND CARBON DIOXIDE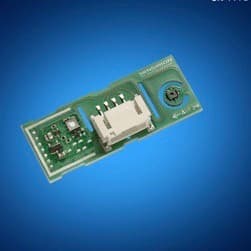 Mouser Electronics stocks the SVM30 multi-gas, humidity and temperature module from Swiss microsensor manufacturer Sensirion. Featuring Sensirion's CMOSens intelligent microsensor technology, the SVM30 is optimised for easy incorporation and sensing performance in heating, ventilation and air conditioning, air purifiers, smart home systems and other indoor air quality applications.
The module offers accurate and stable monitoring of total volatile organic compounds, CO2 equivalent concentration, humidity and temperature. It contains an SGP30 multi-pixel gas sensor with multiple metal-oxide sensing elements as well as an SHTC1 humidity and temperature sensor. The system integrates the sensing elements, analog and digital signal processing, analog-to-digital converter, calibration and data memory, as well as a digital communication interface supporting the I2C standard mode.
The sensing element features exceptional robustness against contamination by siloxanes present in real-world applications, enabling long-term stability and low drift. The humidity and temperature sensor covers a range of 0 to 100 per cent relative humidity and -20 to +85°C with a typical accuracy of ±5 per cent humidity and ±1°C.
Mouser also stocks the SEK-SVM30 evaluation kit, featuring plug-and-play hardware with user-friendly viewer software to give an in-depth evaluation of the SVM30 module. The kit includes all the necessary connector cables and various sensor samples, plus a Sensirion SensorBridge with two independent I2C channels for simultaneous evaluation of two environmental sensor samples.
Mouser Electronics
+852 3756 4700
au.mouser.com