SENSITIVE COBOTS TO TAKE ON MORE PRECISION APPLICATIONS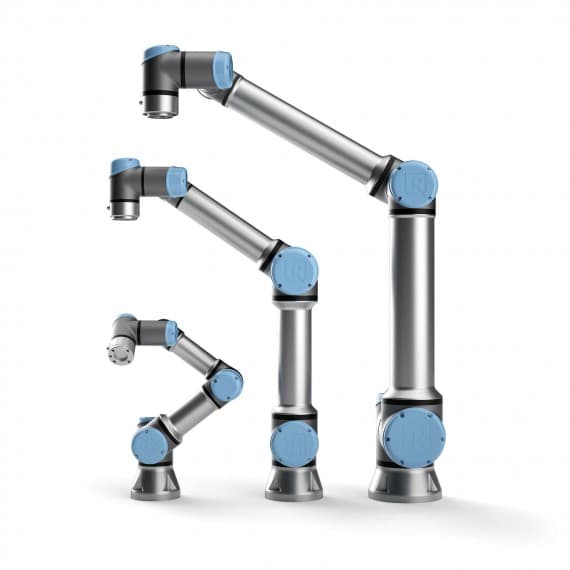 Universal Robots has unveiled its new flagship e-Series of collaborative robots, which incorporate technology advances to enable faster development for a wider variety of applications. One key development is a new tool-centric force/torque sensor that improves precision and sensitivity and allows the cobots to be deployed economically in a wider range of applications.
The e-Series is quick and easy to deploy. It takes just an hour to unpack the cobot, mount it and program the first task. A wrist-join-tool communication interface reduces production line integration time and complexity, and all joints can be replaced in 2 to 6 minutes.
A new user interface streamlines program development by simplifying programming to a few clicks on a new lightweight, wide-screen teach pendant.
The e-Series includes no fewer than 17 inbuilt safety functions, including customisable stopping time and distance, all in compliance with the industry best-practice EN ISO 13849-1 and EN ISO 10218-1 (Cat 3 PLd) machinery safety standards for unobstructed human-robot collaboration.
The e-Series is expected to appeal to the Australian market. According to Shermine Gotfredsen, General Manager, Southeast Asia and Oceania at Universal Robots: "Cobot demand is growing in the region as automation is increasingly becoming a necessity for businesses to achieve greater production efficiencies amid rising operational costs, labour shortages and increasing competition. With the e-Series and G3 product lines, we now offer customers two distinct technology platforms, catering to a wider range of business needs."
The e-Series is available to order now, and shipments will begin from 1st August.
Universal Robots
+65 6635 7270
www.universal-robots.com