SELF-PROPELLED MODULAR TRANSPORTERS MOVE HEAVY LOADS
02-02-2017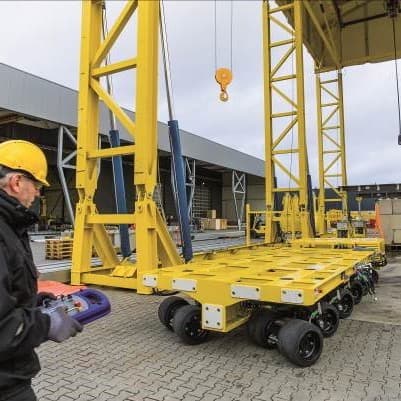 Enerpac reckons its 600 Series Self-Propelled Modular Transporters (SPMTs) offer a compact solution for transporting heavy loads in a wide range of industries, including manufacturing.
The SPMT features a low height and compact frame, which makes it easy to lift, manoeuvre and lower a load in a confined space. Each wheel has its own drive motor, steering actuator and built-in lifting cylinder. This helps the load to be properly distributed across the whole unit, and the built-in cylinders absorb ground variations and lift and level the SPMT for travel.

A single trailer can transport up to 60t safely and efficiently, and is operated via an easy-to-use wireless controller.
There are two models in the range. The SPMT600-100 has a rack and pinion steering system capable of ±50-degree steering and a maximum configuration of 4 x 2. The SPMT600-360 features a slew drive steering system capable of ±179-degree steering and maximum configuration of 6 x 2.
A single hydraulic power pack can operate up to three trailers, depending on the model, and the Tier-4 diesel engine produces low emissions.
For added portability and convenience, two trailers and a power pack can be shipped inside a 20ft container and delivered right to the customer's site.
Enerpac Australia
02 8717 7200
www.enerpac.com.au