SELF-PRIMERS WORK LIKE A DREAM WITH SEAWATER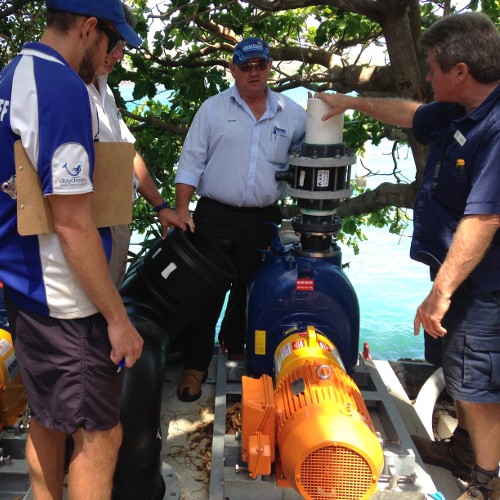 When Daydream Island Resort & Spa needed to specify a pump installation to supply filtered seawater to the Living Reef on the North Side of the resort the requirement was for a flow rate of 180m3/h, to be delivered by two pumps in a dual pump arrangement.
The use of submersible pumps would have required the construction of a "wet well" with lifting apparatus, and standard centrifugal pumps would have entailed the construction of a dry well.
After due consideration, self-priming pumps were chosen, because they could be installed relatively inexpensively compared with the other options. However, because of the tropical temperature of the seawater to be pumped, the materials of construction of the pumps needed to be corrosion resistant.
Gorman-Rupp self-priming centrifugal pumps are available made from CD4MCu, a duplex stainless steel that is not only more corrosion resistant than 316 "marine-grade" stainless steel, but is quite a bit harder, making it suitable for pumping sand should it get into the system.
Being self-priming, and more importantly a "guaranteed" re-priming pump, the pump assembly was able to be mounted high above the seawater, with only a simple concrete slab, keeping the installation simple.
A pair of 100mm pumps were used for this application, but the range includes pumps from 50 to 250mm and in materials of construction to suit a wide range of applications. Even the 100mm pump will pass a large solid (up to 75mm diameter), and has a large inspection cover-plate for operators to gain access to the pump internals for maintenance.
Hydro Innovations
02 9898 1800
www.hydroinnovations.com.au