SELF-LOCKING CUBE JACK LIFTS 50T AND BOOSTS PRODUCTIVITY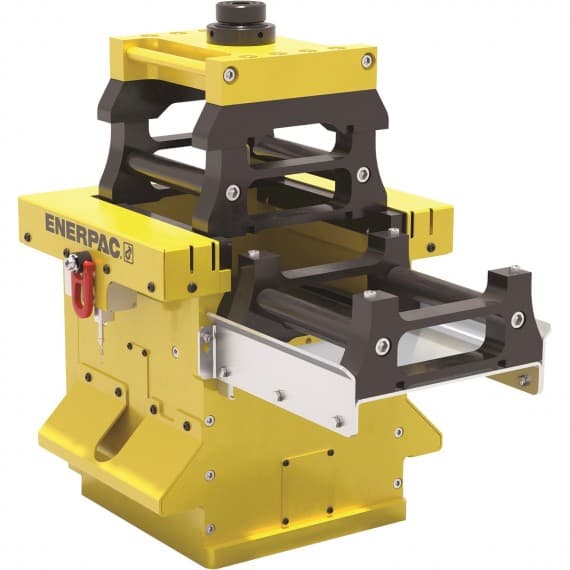 Enerpac is introducing its SCJ-50 series self-locking cube jack, a new compact, portable and safe hydraulic solution for incremental lifting and lowering of heavy loads up to 50t, to Australasia and Papua New Guinea. The jack uses a base lifting frame and self-aligning, lightweight steel cribbing blocks to provide high-capacity and stabilised lifting.
The new technology offers a safe, controlled and more efficient alternative to climbing jacks using wooden cribbing. Its safe, simplified operation sequence with automated mechanical locking can be accomplished with 50 per cent fewer cycles than climbing jacks, and its compact size and portability offer a powerful solution for numerous applications, such as equipment maintenance, vehicle unloading or jacking a transformer, module or bridge.
"The SCJ-50 Cube Jack represents a significant advance in safety, ease-of-use and productivity in compact, portable lifting solutions," Enerpac National Sales Manager Darryl Lange says. "The incremental system mechanically locks the load as each cribbing block is manually added or removed, instead of being held by hydraulic pressure.
"Once the mechanical lock engages, the lift cylinder retracts, and another cribbing block can be added or removed. This safer, simplified operation sequence can be accomplished with 50 percent fewer cycles than climbing jacks, yielding a substantial increase in productivity as well."
The SCJ-50 is based on an operating principle similar to Enerpac's proven 125-750t Jack-Up systems, but with a vastly smaller footprint and without the need for electrical controls.
Up to eleven 16kg steel cribbing blocks can be safely and easily stacked onto the compact base frame, yielding a maximum height of 2m. The base frame footprint measures just 502 x 430mm, making it ideal for portability and restricted operating spaces. A low 494mm minimum initial jacking height increases flexibility and reduces operational startup time.
The jack operates with standard 700 bar hydraulic pressure and is compatible with standard Enerpac pumps, such as the Split-Flow pump that offers the ability to operate multiple jacks synchronously.
In addition to the rugged, reliable design for which Enerpac is respected globally, the new jacks are backed in the field by long-established and extensive sales and engineering support networks that ensure optimum safety and uptime of Enerpac equipment wherever it is used.
Enerpac has a global 'Goal Zero' initiative aiming for zero safety incidents to occur while using Enerpac tools worldwide.
Enerpac
02 8717 7200
www.enerpac.com