SELF DRIVING VEHICLES NAVIGATE TO AUSTRALIA
19-09-2017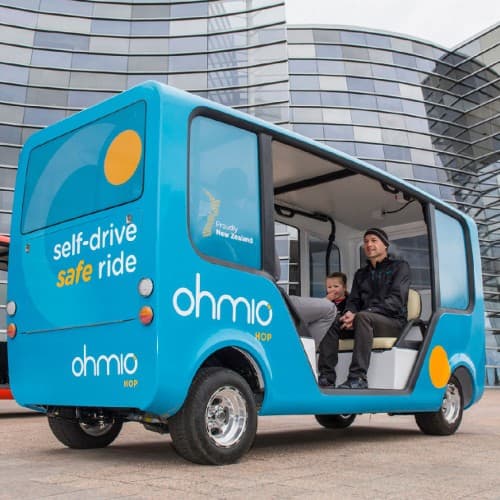 Australia could see the manufacture of yet another new brand of autonomous self-driving vehicles brought onshore.
New Zealand company HMI launched its Ohmio driverless vehicle brand in Christchurch earlier this week, with plans to release a wide range of models including a minibus sized passenger vehicle and freight pod over the next two years.
The Kiwi company aims to be the leading manufacturer for autonomous vehicles in the Asia-Pacific region, and is considering they be built in Australia.
"Depending on where the demand is could be that the vehicles are manufactured completely in Australia, or it could be that they are assembled there," the company's group chief executive Stephen Matthews told Computerworld.
The autonomous vehicles currently being developed and used in trials across Australia – such as New South Wales' first 'smart shuttle' bus trial at Olympic Park in Sydney and RAC's Intellibus in Perth – come from French manufacturers.
"That's really part of the reason we decided to do this," CEO of HMI Technologies in Australian, Dean Zabrieszach told Computerworld. "We figure that this part of the world, the Asia-Pacific region, could do with a manufacturer. And obviously Australia and New Zealand is a good place for that."
HMI owns three vehicles imported from France-based company Navya which it uses in a number of trials, including at Christchurch Airport and later this year at La Trobe University in Melbourne.
"We introduced for them to learn what their capabilities are, what their advantages and disadvantages are, so governments can make decisions in the medium term about the use of such vehicles on roads. But it wasn't about HMI selling Navya or being a distributor to the market," Zabrieszach said.
The use of HMI's locally made vehicles could help reduce the cost and complexity of running autonomous vehicles trials in Australia.
"For us to get an approved route for the Navya product, we have to submit the route to Navya in France, it takes about three weeks to get approval for that process. And we pay a handsome sum for them to conduct that process for us. It's a significant amount of money," Matthews explains.
"Whereas our vehicle we drive it on the route we want to go and it's ready to go. Deployment should be more immediate."
"Ohmio will transform urban and hyper-local transport solutions. The Ohmio Hop vehicles are fully electric and designed to be a last mile solution, carrying people and their luggage short distances, providing the last mile connection to or from transport hubs or mass transit options," Matthews added.
"This development will mean that people might no longer need to rely on their private vehicles, and that makes a whole community better off, by reducing congestion, pollution, and of course the cost and grief associated with traffic accidents and it is those benefits which motivated us to create Ohmio."