Selecting the Right Seifert Cooling Solution for your Enclosure Application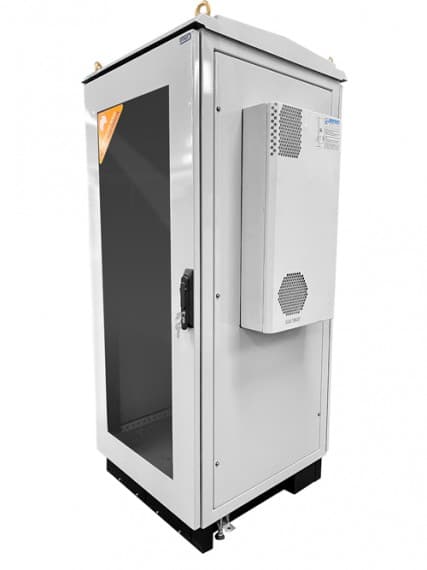 The selection process for determining appropriate cooling for your enclosure and protecting the equipment inside needs to be thought thru. Here are some points to assist in the process of evaluating cooling requirements.
Consider the size and build style of your enclosure; it needs to be a minimum IP54 (ingress protection, where 5 = solids - dust protected and 4 = water - protected from water splashed at all directions. We recommend this IP rating as a minimum.
The functionality of Seifert precision air conditioners works on a split system, dual air circuit principal.
The internal cabinet circuit recycles clean cool air within a pressurised zone. The external air circuit relies on drawing and exiting air to atmosphere.
What's your enclosure fabricated from. If it is stainless steel, we recommend a stainless steel air conditioner. Stainless 304 as standard and 316 for harsher environments.
For mild steel applications as standard Seifert units are powder coated RAL7035 - a light grey finish as standard.
For outdoor environments we recommend the dedicated OC series of Outdoor units or the Slim Line Pro series. By default, these units are IP56.
For indoor applications maybe the Compact series or the Slim Line series. Again, they are available in mild steel powder coat finish or stainless steel. These units are rated to IP54.
When establishing the required cooling capacity to suit an enclosure we take into consideration the following- Maximum ambient temperature.
Where is the installation location, indoors or outdoors?
Maximum internal temp – that is the required internal temp of the enclosure to be maintained at – In most applications it is around 35ºC.
What is the power supply source? 240V AC or 400V AC (3 phase).
Solar load on the enclosure, are sun shields fitted? Is Thermabreak installed? These need to be considered.
Thermal dissipation of equipment. Probably the most complex part of the equation and generally the hardest to define. Sometimes the data sheets of equipment will identify thermal loads in Watts or British Thermal Units (BTU's).
Can take a bit of investigation. We are happy to assist in this area. These are the main criteria for selecting a suitable cooler.
To assist, refer to the Seifert web page "Cal-cool-ator".
By answering the above questions and a few additional, it will assist with fine tuning an appropriate cooling solution for your application.
Alternatively, we are happy to work thru the process of establishing a suitable cooling solution in consultation with you.