Secure storage made to order
31-08-2010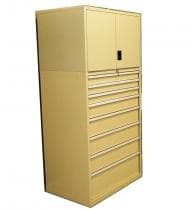 Ergonomic product specialist Actisafe now supplies high density Actiwork secure storage cabinets for industrial, general manufacturing and defence applications.
The cabinets feature a lockable top cupboard for larger items that don't normally fit into a drawer space.
Actisafe, a Defence Recognised Supplier, has developed the cabinets to meet a growing demand for secure facilities in storage applications.
The cabinets can be custom made to specific dimensions for companies that often find it difficult to fit catalogue sizes in specific locations.
And all shelving and ancillaries fittings can also be made to order.
That means accessories – inside and out – such as handles, shelf inclusions and rollers can be made to any requirement.
All Actiwork high density secure storage cupboards have a durable, industrial powder coating to provide many years in protection and service.
Because Actisafe has its own powder coating facility, an extensive range of colour choices are available.
This allows companies to align with their own branding, safety procedures and identification needs.
Actisafe
Ph: 1300 852 397