SECURE I2C COPROCESSOR DELIVERS AUTHENTICATION AND SECURITY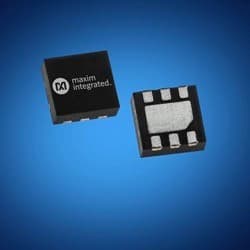 Mouser Electronics stocks the DS2477 DeepCover secure coprocessor from Maxim Integrated. The DS2477 provides additional levels of authentication and device integrity protection for industrial systems, medical sensors and IoT tools.
It is a secure I2C coprocessor with built-in 1-Wire master combining FIPS202-compliant secure hash algorithm (SHA-3) challenge and response authentication with Maxim's patented ChipDNA feature to provide the ultimate protection against security attacks cost-effectively.
The DS2477 utilises the ChipDNA output as key content to cryptographically secure all device-stored data. Attempts to observe or probe ChipDNA operation modifies the underlying circuit characteristics, preventing discovery of the unique value used by the chip's cryptographic functions. The ChipDNA circuit, a physically unclonable technology, uses a random variation of semiconductor device characteristics that naturally occur during wafer fabrication. The circuit generates a unique output value that is repeatable over time, temperature and operating voltage, and provides a core set of cryptographic tools derived from integrated blocks.
Mouser Electronics
+852 3756 4700
au.mouser.com