SECOND STARTUP INTAKE FOR TECHSTARS
08-03-2018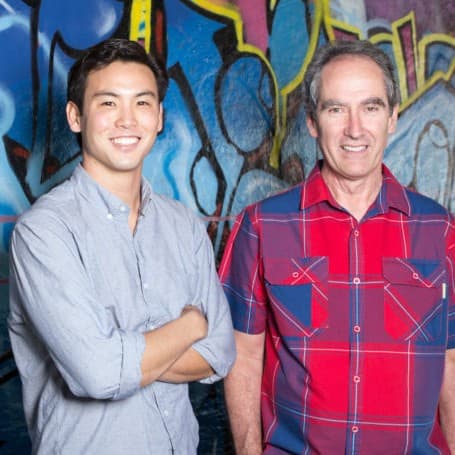 Techstars Adelaide's Chris Chang (left) and Terry Gold (right).
The Adelaide based Asia-Pacific startup hub Techstars has opened for a second intake of startup applications, seeking companies that are looking to innovate in the defence and security sectors. 
Techstars' global accelerator portfolio includes more than 1000 companies with a market cap of $9.6 billion and the Adelaide program supports startups building innovative applications in IoT, big data, sensors, and robotics, with the potential to commercialise technologies in the defence and security sectors.
Managing Director of Techstars Adelaide, Terry Gold, said that last year the startup accelerator received applications from more than 49 countries before settling on 10 companies from Australia, India, Israel, Italy, New Zealand and the United States.
"Last year we proved just how exciting the growth potential of the innovative defence and security sector really is," Gold said.
"Techstars Adelaide gives startups the opportunity to base themselves in a global centre of excellence for defence and security, to work directly with some of the world's leading defence organisations and within the broader network of international companies."
The Techstars Asia Pacific accelerator is backed by global defence industry giants Boeing Defence Australia, Saab Australia, Thales and Codan Defence Electronics.
"With $100 billion of defence projects in the pipeline in South Australia, and Adelaide emerging as a regional hub for startup development, we could not be more excited to be inviting the world's best startups to participate in what is fast becoming the world's leading defence accelerator," Gold said.
Teamgage, a startup from the inaugural intake that developed a platform to enable large organisations to manage change, has grown its user base by over 200 per cent since July 2017.
Noelle Smit, Teamgage's Co-founder and Chief Operating Officer, said Techstars Adelaide opened up a global network for the company that helped them grow.
"Working alongside companies like Boeing and Thales has given us access to powerful mentoring and business opportunities. We've since signed Thales on as a Teamgage client, and are set to roll out our platform across the organisations' 3500 team members nationwide," she said.