SECO NOW OFFERS SHORTER FLUTES FOR HIGHER CUTTING FORCE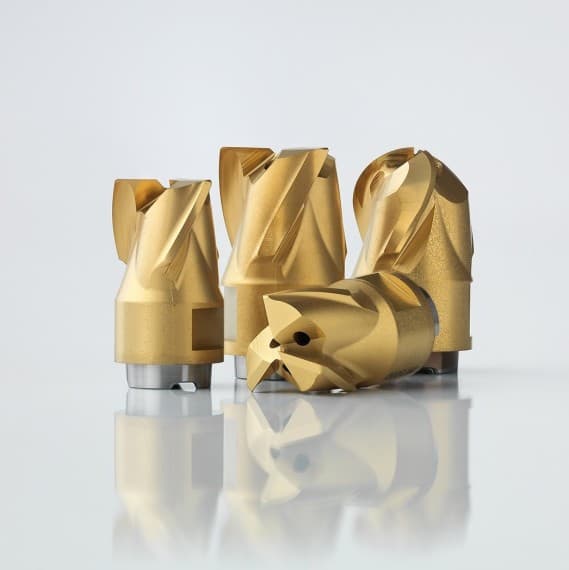 Seco, a leading global provider of metal cutting solutions, is continuously expanding its Minimaster Plus replaceable tip milling system.
The latest development involves cutting heads with shorter flute lengths for handling higher cutting forces and increasing metal removal rates in roughing and semi-finishing operations.
The new cutters incorporate all of the same design features and benefits of system's existing cutting heads, only in shorter flute lengths of 0.7 x D to boost stability.
Existing flute lengths are 1.2 x D.
This increase in stability makes these latest cutters well suited for demanding applications and 5-axis machining.
Ideal machining conditions for these cutters are those where radial engagement is much greater than axial engagement, which is opposite for longer flute cutters. 
Same as the existing cutting heads, the shorter flute versions have inserts available in two grades for machining all types of materials and E- and M-geometries for a smooth cutting design.
Insert diameter options are 10mm, 12mm and 16mm, and corner radii are available from 0.4 mm to 3.1 mm to match a variety of design requirements. Also available are square shoulder and ballnose inserts with internal coolant channels. 
Overall, the Minimaster Plus system is intended for general machining in the aerospace, power generation, mould & die, automotive and medical industries.
It easily cuts steel, stainless steel, cast iron, aluminium and other difficult-to-machine materials, while making tool-length re-measurement obsolete. 
One of the system's most notable features is its high-precision interface between the replaceable carbide insert and the steel shank.
The insert has an internal thread and external taper, while the shank has an internal taper with a threaded centre pin for added reliability and stability as well as a run-out of approximately 10 microns. 
Also, an axial stop on the shank increases repeatability and productivity by allowing end users to replace an insert without having to remove the tool from machine spindles.
The new insert then repositions axially within 25 microns. 
Seco Tools
1300 557 326