SECO EXPANDS RANGE OF INSERT GEOMETRIES AND HOLDERS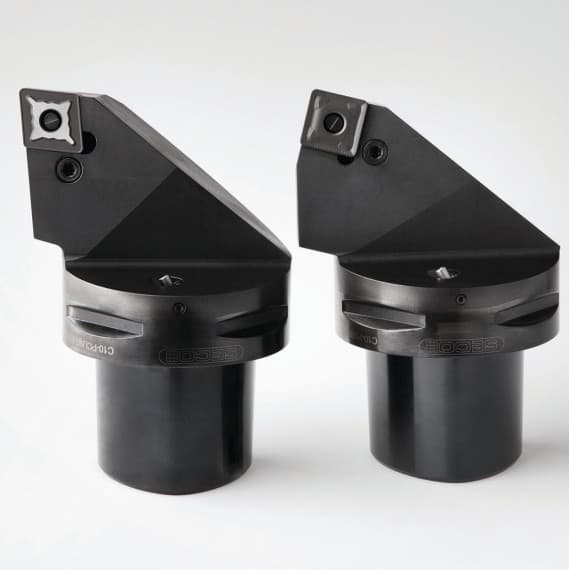 Seco has expanded its range of insert geometries for the turning of challenging materials, such as hardened steels and superalloys.
The new geometries are available in the TH1000 PVD-coated grade and TH1500 Duratomic® CVD-coated grade.
Combining a Seco-Capto machine-side interface with rigid P-lever-clamping, the new holders accommodate larger inserts for heavy-duty applications, particularly in ductile materials.
Both the TH1000 and TH1500 offerings have been significantly expanded with new inserts shapes, chipbreakers and nose radius sizes.
The addition contains optimal solutions for a range of applications in the aerospace, energy and automotive industry segments.
TH1000 inserts offer a TiSiN-TiAlN nanolaminate PVD-coated grade ideal for finishing operations or interrupted cuts in hardened steels from 50 to 62 HRC.
The grade also excels in long, continuous finishing and semi-finishing operations in superalloys, such as Inconel 718, Waspaloy and Nimonic C263.
The grade allows for faster cutting speeds in these applications and joins Seco´s carbide grades TS2000 and CP200 and CBN grade CBN170 to form a complete finishing package for superalloys.
TH1500 incorporates Seco´s unique Duratomic coating technology, which manipulates oxygen and aluminium at the atomic level to optimise the coating´s properties.
The grade offers excellent performance in hardened steel applications with high cutting data, as well as continuous cuts in materials from 40 to 55 HRC.
TH1500 also achieves superior finish turning of grey and ductile cast irons, making it an excellent complement to Seco´s TK1001 and TK2001 grades within that application area.
To support heavy-duty roughing operations in superalloys and long-chipping steels, Seco has introduced versions of its Seco-Capto P-lever holders that accommodate large CN and SN inserts.
The Seco-Capto interface sizes range from C5 to C10 and insert sizes range from CN..16/SN..19 to CN..25/SN..25.
The P-lever clamping system leaves the area above the insert free for maximum chip flow and unhindered chip evacuation.
Additionally, Seco-Capto P-lever holders feature a new nozzle design, ensuring coolant pressure capabilities of up to 70 bar, for efficient heat removal from the cutting zone.
Seco Tools
1300 55 73 26