SCRUBBERS PROVIDE VERSATILE CLEANING ON MOST FLOOR SURFACES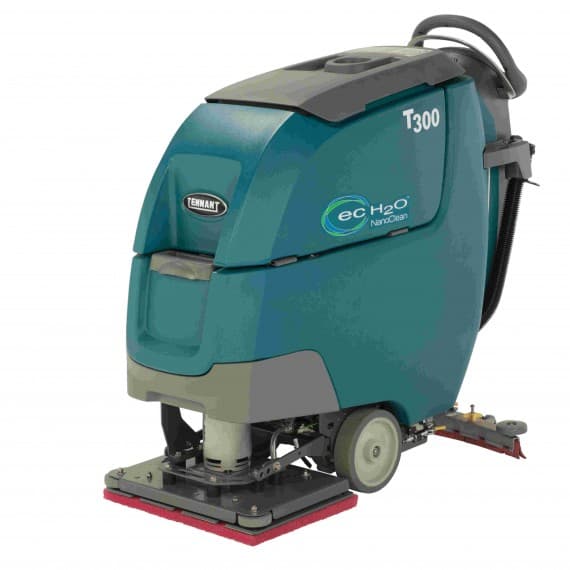 Orbital technology is used across a range of industrial and commercial walk-behind scrubber dryers, and provides uncompromising versatility on virtually any hard floor surface.
The orbital head is rectangular for a superior edge-to-edge clean and can also clean baseboards and cove mouldings. A pad backer with hook and loop tape is designed to prevent the working pad from falling off during transportation or use, and the balanced rectangular orbital design allows for the compression of the pad to be maintained on uneven or textured floors.
Tennant's T300 orbital scrubber is designed for thousands of oscillations per minute and has ten isolators to minimise vibration, ensuring operator comfort, maximised performance and machine durability. The orbital head draws less power overall and improves battery runtime up to 45 per cent compared to a traditional disk head, and pad life is extended. This translates into a lower cost of ownership and increased productivity for businesses and facility managers.
"Tennant's three variable down-pressure settings means operators can easily optimise down pressure at the touch of a button," Tennant Australia Commercial Distribution Manager Tony Applin says. "There's no need to add or remove heavy counter weights from the scrub head. This delivers our customers savings in terms of extended run times, which means better productivity per shift and safe WH&S operating conditions.
"Orbital heads provide a deep daily clean and with the ability on our machines to change pad pressure they maximise your overall cleaning performance. Industries we find most suited to this type of cleaning are education, healthcare, retail and hospitality. Such facilities may have multiple floor types and need to maintain their image to a high standard on a daily basis.
"More and more facilities are using modern decorative tiles and natural stone for their flooring, which brings new challenges to cleaning regimes. And we've had great success with customers who have facilities with grout lines and non-slip surfaces.
"The current range is for our mid to large walk-behind scrubber dryers starting at the T300 moving into the larger T500 family and finally our latest addition the even larger T600 workhorse. All available with ec-H2O NanoClean and Iris intelligent insights software where customers require it."
In simple terms, the darker the colour of the pad, the more aggressive the cleaning will be. 3M's blue cleaning pad is used for heavy-duty scrubbing, and removes dirt, spills and scuffs, leaving a clean, prepared surface. Its red cleaning pad is designed for everyday cleaning and light scrubbing to remove light soil, scuff marks and black heel marks. Its white polishing pad is used for light cleaning to help remove soil and soft scuff marks with minimal dulling of finish. A melamine pad is made of an open-cell polymeric foam that produces outstanding results when cleaning vinyl, terrazzo, tile, concrete and epoxy floors. It is effective at removing black marks and can restore tile and grout without using harsh chemicals.
Recently, in addition to scrubbing, there is a growing movement towards chemical-free floor stripping, and orbital dual technology is the perfect solution. The versatility of a dual-purpose machine is a great investment for any facility that wants to reduce its environmental impact and also save money in the long term.
Tennant Australia
1800 226 843
au.tennantco.com